The Government has urged the State Appraisal Council to review the feasibility report for the first phase of the proposed Long Thanh international airport, which is slated to begin this year, and submit it for approval next month.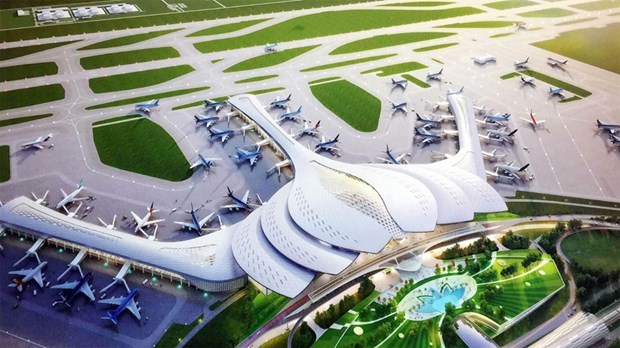 An artist's depiction of the Long Thanh International Airport to be built in the southern province of Dong Nai, 40km east of HCM City. — Photo courtesy of Airports Corporation of Việt Nam
The land allocated for the first phase is set to be increased from 1,165ha to 1,810ha.
The Government has instructed Đồng Nai Province People's Committee to speed up land acquisition and resettlement of affected households so that the construction could start as soon as possible.
The Ministry of Transport has been asked to study and develop a transportation system connecting the airport with the southern key economic region. 
The National Assembly (NA) issued at the end of last year Resolution 95 that requires the developer of the proposed airport to use its own funds instead of money from the Government.
The resolution also states the Government must ensure that the investor abide by principles of financial efficiency and national defence and security.
In a feasibility study submitted to the NA, the Government said it prefers to award the construction contract for the mega airport to the State-owned Airports Corporation of Việt Nam.
The airport was mooted as far back as in 2005, but has been plagued by delays. 
Even now all the required lands have not been acquired, and there are ongoing funding and bureaucratic issues holding back the start of the construction, experts said.
At a meeting last year, Deputy Prime Minister Trịnh Đình Dũng urged agencies to work together closely to ensure construction of the airport could begin as soon as possible this year.
Tân Sơn Nhất international airport in HCM City, the country's largest, is severely overloaded, and the new airport in Đồng Nai near the city should become an aviation hub for Southeast Asia, he said.
Once fully operational, Long Thành will be able to handle 100 million passengers and five million tonnes of freight annually.
It will spread over more than 5,580ha in six communes. 
It will cost an estimated VNĐ336.63 trillion (US$14.51 billion), with the construction to be done in three phases.
In the first phase, a runway and one terminal along with supporting works will be built to handle 25 million passengers and 1.2 million tonnes of cargo a year.
It is expected to be completed by 2025.
In the second, one more runway and terminal will be built to handle 50 million passengers and 1.5 million tonnes of cargo a year.
After the third and final phase is completed, besides 100 million passengers it will also handle five million tonnes of cargo a year. 
It is expected to have the most advanced technologies to match the service quality and safety standards of the world's leading airports. — VNS