Deputy PM Truong Hoa Binh has asked the Ministry of National Defence, Ministry of Public Security and Ministry of Industry and Trade to request declarations from organisations and individuals which own unmanned aerial vehicles.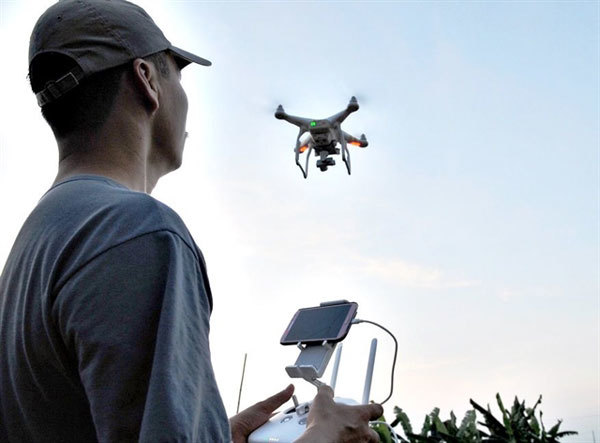 A man controls his flycam drone in Hanoi. — Photo thegioitiepthi.vn
Binh, who is also chairman of the National Civil Aviation Security Committee, said it was among many measures addressing the evolving threat to civil aviation involving these pieces of equipment.
Binh said drones and ultralight aircraft were being widely applied in many fields, bringing many benefits in socio-economic development.
However, due their ease of transportation, control and low cost, the equipment was becoming a threat to the security and safety of civil aviation.
Thus, it was necessary to develop long-term measures on managing UAV and ultralight aircraft to minimise potential risks.
The establishment of prohibited zones for UAV and ultralight vehicles must be implemented and publicised to all organisations and individuals.
The Ministry of Transport, in collaboration with ministries and branches, must study and complete the legal documents on airspace management, including the management of UAV and ultralight vehicles.
Administrative sanctions must be added, he said.
It has been asked to work with the Ministry of National Defence to maintain timely information exchange and jointly handle violations.
The declarations of UAV and ultralight vehicles must be implemented promptly in all localities.
Binh has also instructed the Ministry of Industry and Trade to coordinate with the Ministry of National Defence and the Ministry of Public Security to tighten control over the import of UAV and ultralight vehicles and the business markets of the equipment. —VNS

Prime Minister Nguyen Xuan Phuc has sent an urgent dispatch asking concerned ministries and agencies to strengthen management over unmanned aerial vehicles (UAV), also known as drones, to ensure air traffic safety.
After several hopeful years, new legal improvements on air carriages and airport enterprises will take effect from early next year. 

Vietjet, Vietnam Airlines, and Jetstar Pacific Airlines – the country's top airlines – have achieved the highest ranking of seven-star on international aviation safety provided by global prestigious rating agency Airline Ratings.