The Government has instructed the HCM City People's Committee to adjust the construction master plan for the city and complete the documents required for it.
HCM City calls for investment in 210 projects worth US$51.6 billion
HCM City's EPZs need a revamp
HCM City to improve apartment building management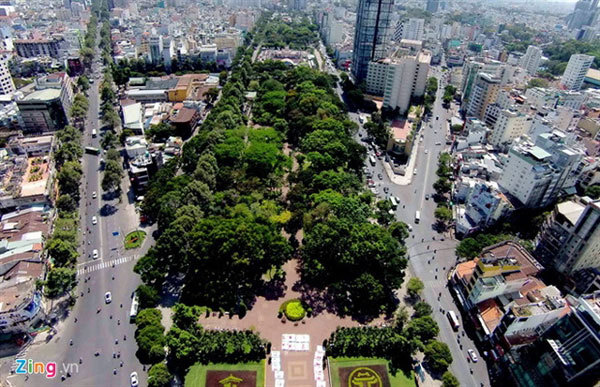 The 23 September Park in HCM City in Pham Ngu Lao Ward of HCM City's District 1. -- VNS File Photo
The changes should be widely acceptable to the public and attractive to the business community, it said.
The adjustments to the plan are aimed at making the city highly competitive with a well-developed infrastructure and urban spaces which would help minimise the impacts of climate change and improve the efficiency of land use, according to the instruction.
They are also aimed at building suitable urban structures to reduce the population pressure on the centre of the urban area through satellite cities.
The chairman of the city People's Committee, Nguyen Thanh Phong, has instructed the Departments of Construction and Planning and Investment and other relevant agencies to speed up land acquisition and complete procedures for the renovation of September 23 Park on Le Lai Street in District 1.
On June 24 the People's Committee said the Department of Construction had been instructed to work with the Departments of Culture and Information and Natural Resources and Environment on plans to remove Sen Hong Theatre at 98 Le Lai Street.
The Department of Transport would collaborate with the Department of Natural Resources and Environment and other relevant agencies to relocate the Ben Thanh bus terminal (at 1 Pham Ngu Lao Street in District 1) while renovating September 23 Park.
The HCM City Centre for Land Fund Development and Department of Construction had been ordered to supervise these works so that the site could be cleared before being transferred to relevant agencies by the end of this month.
The People's Committee of District 1, the police department and the construction department would be responsible for ensuring security, order and the environment at the park and its surrounding areas.
VNS.