Police in Hanoi City reported on Tuesday they had fined a GrabCar driver VND1.5 million (US$65) for ripping off foreign tourists.
Tam Coc-Bich Dong boat rides under fire for ripping off tourists
Street vendors unsettle foreign visitors in Saigon
Tourists ripped off by vendors in Hanoi's Old Quarter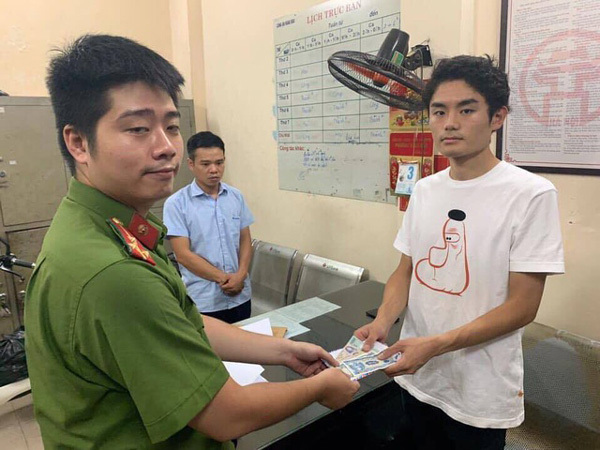 Vu Ngoc Quang (back) at the police station. Hoan Kiem District police hand over the money to a Japanese tourist who was ripped off. — Photo dantri.com.vn
Vu Ngoc Quang, 39, was accused of overcharging a group of Japanese tourists when he took them from Nguyen Quang Street (Cau Giay District) to Hang Duong Street (Hoan Kiem District).
The Japanese visitors claimed they were charged VND2 million ($85) for a journey that would normally cost VND200,000.
They complained to Hoan Kiem District police who identified the GrabCar driver and brought him in for questioning.
According to police, on August 31, Quang took advantage of the language barrier and the fact the foreign tourists did not know the exact exchange rate to charge them VND2 million.
On September 19, two Philippine visitors reported they were charged VND1.7 million (US$74) for a journey that would normal cost a fraction of that price in HCM City.
In the first six months of this year, 2,650 cases of tourists being hassled by taxi and cyclo drivers, beggars and street vendors were reported. VNS