The owner of the Hung Long QN tourist boat which was suspended after a camera was found at a bathroom said that they were very sorry.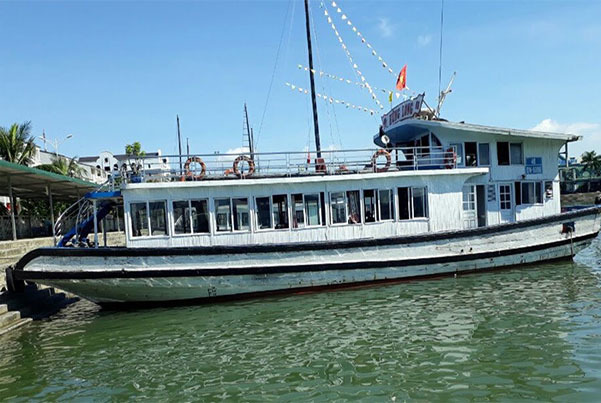 The Hung Long tourist boat is suspended after a camera was found at a bathroom on July 13. Photo by Vietnamnet
Speaking to Dantri/Dtinews, the boat's owner, Le Thi Huong said that she was very sorry for the incident which had badly affected the image of the Hung Long crew-members as well as the boat service on Ha Long Bay.

"I was not on the boat when the incident happened," she said. "The male crewmember who did this had worked on the boat for over a year and had done his work well until that incident occurred."
"Myself and crew often use this bathroom," she said. "I never thought such a thing could ever happen but now we have to face it. We now have to stop operations during the police investigation."
A representative from the Ha Long Boat Association also said that this was the first time such an incident had happened and it had badly affected the reputation of boat services in Ha Long Bay.
"We have just asked all boat operators to carefully inspect their vessels to avoid any similar such incident," he said.
In a report to police in Ha Long City, a 35-year-old crewmember Hung Long boat admitted using his mobile phone which was hidden in the roof of a bathroom to record people bathing on July 13.
He was caught by a male passenger who was using the bathroom and saw the crew member trying to cover the hole and delete the recordings.
The passenger then informed local police who arrested the crewman.
There are currently 503 tourist boats operating on Ha Long Bay, including 314 boats providing day-tour sight-seeing services, with the remainder offering overnight services. Before the incident, boat services on Ha Long faced complaints about fire safety and low-quality tours. Dtinews
Ha Trang

A tourist boat on Ha Long Bay in the northern province of Quang Ninh has been suspended after a hidden mobile phone with a camera was found in a bathroom.

Ha Long Bay managers are trying to deal with the huge amount of rubbish dumped at sea.