Ha Long City of the northern coastal province of Quang Ninh plans to spend more than VND2.5 trillion (US$107 million) on transport infrastructure this year.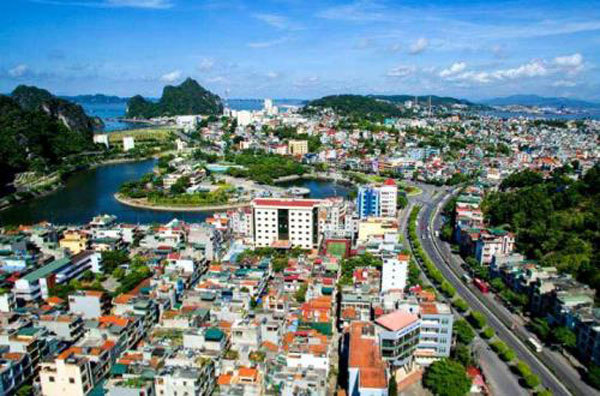 Arial view of Ha Long City in Quang Ninh Province. VNA/VNS Photo
The money, which will be used to carry out 57 projects, will come from the province's budget, revenue from Ha Long Bay's visiting fees and private sources.
The cash infusion allowed the Tran Quoc Nghien Coastline project to restart earlier this month, with many major items of construction expected to be completed by the middle of next month.
When finished in April, the coastline is hoped to become a new tourism destination with many beaches.
Next is the project of renovating streets in Hong Hai and Hong Ha wards with an investment of VND950 billion ($41 million).
The streets will be upgraded and get expanded links with the main roads of the city.
To ensure spacious and clean infrastructure to meet the increasing number of tourists, sidewalks in Dang Ba Hat Street will be re-built with VND210 billion ($9 million) of investment.
Ha Long's authorities will prioritise resources to build campuses and classes in educational institutions as well as renovate Square 30-10 and the fishing port in Cao Xanh Ward, upgrade drainage systems and use energy-saving LED lights in all lighting systems.
The city has pledged to hasten ground clearance for the projects using the provincial budget such as Cua Luc Bridge 1 and 3, and roads linking Hoanh Bo District with the city centre and the Ha Long-Van Don Expressway.
The Cua Luc Bridge 1 links the Cai Lan – Viet Hung Route with Troi-Vu Oai Intersection, while the 4-lane Cua Luc Bridge 3 connects FLC Residential Area in Ha Khanh Ward with Highway 279 in Thong Nhat Commune.
The two projects with total investment of VND4 trillion ($172 million) are expected to start in the second quarter this year and be completed in 2022.
Additionally, the city will focus on ground clearance for projects which were launched last year like the Ha Long – Cam Pha Coastline Project. VNS

Quang Ninh Province has invested more than VND38 trillion (US$1.6 billion) in service infrastructure so far this year to promote socio-economic development.

The real estate market in the northeastern province of Quang Ninh is booming this year, in line with previous forecasts.