Hai Phong authorities have contacted the leaders of Chinese Taiwan-invested footwear manufacturer KaiYang Vietnam Limited Company in their home country to secure support for the company's Vietnamese employees
after the firm's director-general fled Vietnam.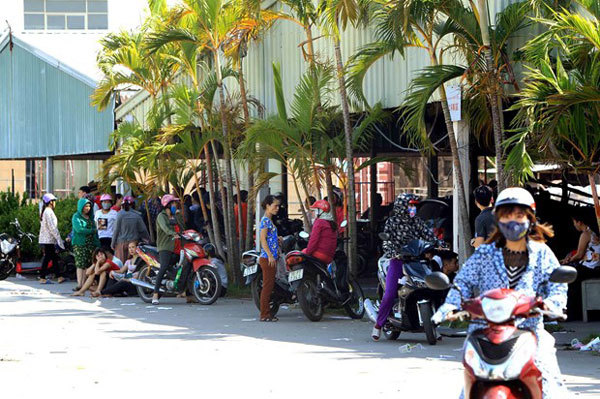 KaiYang Company's employees left work and gathered in front of the company over the past few days to wait for a solution after the company's director-general fled the country on Monday, leaving their wages unpaid. — VNA/VNS Photo An Dang
Le Khac Nam, vice chairman of the city People's Committee, said the leaders of the Taiwanese company were trying to persuade their business partners to accept batches of goods produced under contract so its Vietnamese subsidiary can afford to pay its workers' wages.
The leaders also expressed their hope that operations in Hai Phong could get back on track soon.
As previously reported, the city earlier pledged to help the workers after they arrived at the factory to find that the company's Taiwanese director-general Huang Chang Che, 42 years old, along with 17 experts and technicians, had fled the country on Monday without an explanation, leaving their wages unpaid.
Vice Chairman Nam said on Thursday that authorities have asked the city's social security agency to map out a plan to pay insurance premiums for labourers who are pregnant or undergoing treatment for health problems.
Tran Thanh Hai, vice president of the Viet Nam General Confederation of Labour, asked the company's trade union to compile an accurate list of labourers who worked in July and the first 10 days of August in order to pay their wages and insurance premiums and provide their other benefits.
"If there is any change in the company's operation, the company must ensure wages and other benefits for labourers," he said.
According to the city's General Confederation of Labour, KaiYang Vietnam Limited Company has 2,357 workers. Among those, more than 2,100 are women and 85 are pregnant.
The company is entirely backed by investors from Taiwan and manufactures leather shoes for export.
VNS