Hai Phong authorities have demanded the police investigate and handle criminal gangs who allegedly destroyed houses on military land and threatened residents.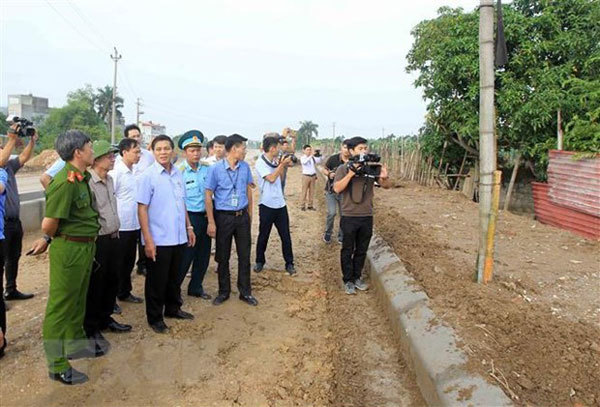 Authorities of Hai Phong City visit illegally occupied land area in Hai An District. — VNA/VNS Photo An Dang
The coastal city People's Committee also asked the People's Committee of Hai An District – where the property theft occurred – to co-operate with the police and the Air Division 371 to deal with the crimes.
The police received reports of several incidents since late September, in which dozens of gangsters armed with swords, knives and metal rods gathered to demolish houses, change the locks or set up aluminium fences around empty lots along the East-West Boulevard. By doing so on hundreds of land lots, they tried to gain de-facto ownership of the neighbourhood.
The East-West Boulevard, which is in the final stages of construction, was a key urban axis in the city's master planning. The 20km-long road built with loans worth US$276 million from the World Bank is due to open soon, which is expected to increase prices of land along the boulevard.
Hai An District People's Committee Chairman Pham Chi Bac told Tuổi Trẻ (Youth) that the Vietnam Army General Staff in 1993 agreed to let Aviation Division 371 give part of the military land in Thanh To Ward to build housing for their soldiers and staff.
The division, however, failed to finish the paperwork at the time so the local administration was unable to grant house dwellers their land use certificates. Many have moved away since then and sold their land to others, though without any paper, Bac said.
The gangsters recently took advantage of uncertain ownership to raid houses and empty land in the neighbourhood and claim ownership, he said.
"The difficulty is it will take time to track and identify the current owners of the land and to see what they think on the matter. Only then can the authorities move on with legal proceedings to handle the issue," the official said.
"But it is very possible that the gangsters are already finished with the encroachment and sell off the land by the time the work is completed."
According to Thanh To Ward People's Committee Vice Chairman Doan Van Dong, the authorities managed to identify three gangs involved in the case.
They were gangsters operating under 'Buck-toothed' Hai, 'Black' Hung and 'Crippled' Binh who are all based in Hai An District.
Dong said that the district authorities established a task force to monitor the area but it was unable to keep watch around the clock. VNS