Nguyen Duc Chung, chairman of Hanoi City's government, on behalf of the municipal leaders, has pledged to learn from past mistakes in handling the water contamination incident involving the Da River.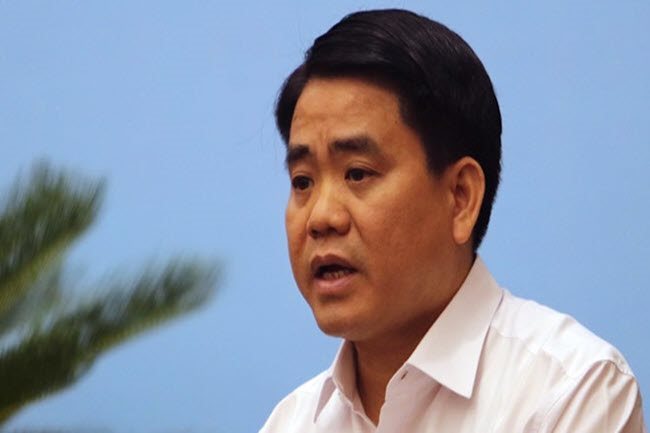 Chairman of Hanoi City's government Nguyen Duc Chung – PHOTO: THANH NIEN ONLINE
The municipal People's Council on November 4 held a meeting on food safety issues in the city. Chairman Chung spent the final part of the meeting discussing the water contamination, reported the local media.
"Today, I stand for the city's authority to learn from mistakes in tackling the incident," Chung was quoted by Tuoi Tre newspaper as saying.
The city must bear responsibility for allowing the incident to occur. However, Song Da Water Investment Company (Viwasupco), which supplies water to a large part of Hanoi, must take some responsibility for the incident, said the chairman.
Viwasupco knew from the start that the crude water was contaminated with waste oil and had asked its workers to use more chlorine to treat the polluted water.
The firm refused to admit the problem even after city officials published the test results of water samples on October 15, prompting Chung and Vice Chairman Nguyen The Hung to call the firm's owner and major shareholders to discuss the issue. During this call, they admitted to having discovered the polluted water, according to Chung.
Through the inspection results, the city also found that the plant uses outdated technology to treat the water and does not have an automatic monitoring system to check the crude water.
The city had chaired a meeting with the involved parties and with Viwasupco to install an automatic monitoring system to check water quality.
Further, the city will work out potential scenarios to prepare a response to similar incidents, Chung added.
Viwasupco's water treatment plant in the northern upland province of Hao Binh is the first facility to be located in a neighboring province but supply water to the city.
On being notified of the incident on October 8 by local residents, the city's government dispatched a team to take water samples and send them to the Ministry of Health and the Vietnam Academy of Science and Technology for testing.
Besides this, the city asked other water suppliers to provide fresh water to the affected households during the incident. SGT

The chairman of Hanoi People's Committee, Nguyen Duc Chung, has directed city's Health Department to test multiple water samples every day and report to city leaders and publicise the results to local citizens.

The water plant at the centre of a pollution crisis in Hanoi on Friday made an official apology to thousands of customers, promising them a month's supply for free.