A policewoman in Hanoi City has been banned from flying for one year for insulting a Vietnam Airlines check-in staff and shoving and shouting at security personnel at the Tan Son Nhat Airport in HCMC two weeks ago.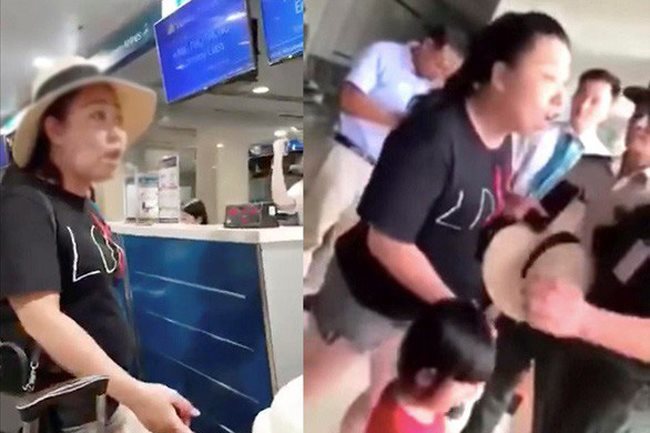 Stills from video footage feature Hanoi policewoman Le Thi Hien at Tan Son Nhat airport in HCMC on August 11
Earlier today, the Civil Aviation Administration of Vietnam imposed the flight ban on Le Thi Hien until late August 2020 for disturbing order at the airport. Also, she will be subject to compulsory visual inspections until August 2021 when she boards a flight.
The 36-year-old traffic police officer from Dong Da District had been uncooperative and verbally abused aviation staff at the airport, and even kicked and pulled the hair of a security guard, said the aviation regulator.
Following the incident, her police agency suspended her for one month on Friday for displaying behavior that violated the public etiquette for the People's Police.
Two video clips, which went viral on social media after the incident, feature Hien hurling abuse at a Vietnam Airlines female employee at a check-in counter.
According to the Southern Airports Authority, the incident occurred on August 11 when Hien, who was seen traveling with her child, was checking in for a Vietnam Airlines flight from HCMC to Hanoi.
Hien wanted to check five bags but was asked to take back one bag as a carry-on since she had already checked four pieces for free as allowed. Failing to get her way, Hien started yelling at and insulting the airline staff.
A security guard at the airport was quoted by Tuoi Tre newspaper as saying that Hien later agreed to board with one carry-on and went through a security screening.
However, after discovering she had lost her boarding pass, Hien returned to the check-in counter and resumed yelling at airline employees.
This prompted a Vietnam Airlines representative to prevent her from boarding, due to concerns about public security and safety.
The policewoman continued to create a disturbance and assaulted security officers when she was asked to go to the Southern Airports Authority's airport office to address the issue. However, she was only fined VND200,000 (US$8.7) for causing the disruption. This lenient fine has since sparked public uproar.