The capital city of Hanoi will temporarily shut down relic and religious sites, sidewalk eateries and beverage outlets from 5pm on May 3, in an effort to fight the COVID-19 pandemic.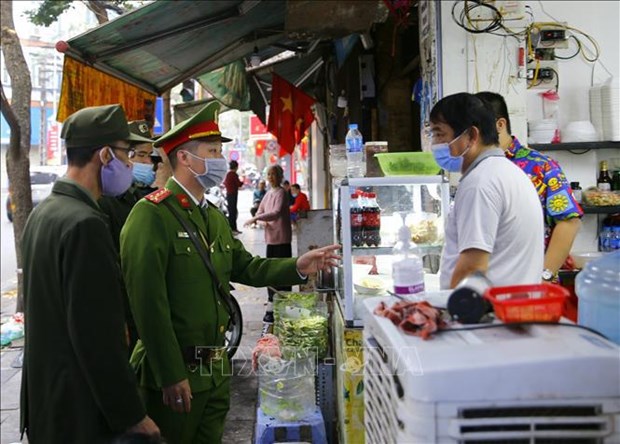 At an eatery in Hanoi
According to dispatch No.06/CD-UBND signed by Chairman of the municipal People's Committee Chu Ngoc Anh the same day, restaurants must spray disinfectants, ensure 1m distancing among customers, and encourage takeaways.
Amid the complicated developments of the pandemic in many localities, Chairman of the Ho Chi Minh City People's Committee Nguyen Thanh Phong also decided to suspend massage and sauna services, cinemas, theatres, and online game centres from 6pm on May 3.
He expressed his concern over the high risk of COVID-19 resurgence when residents return following the holiday.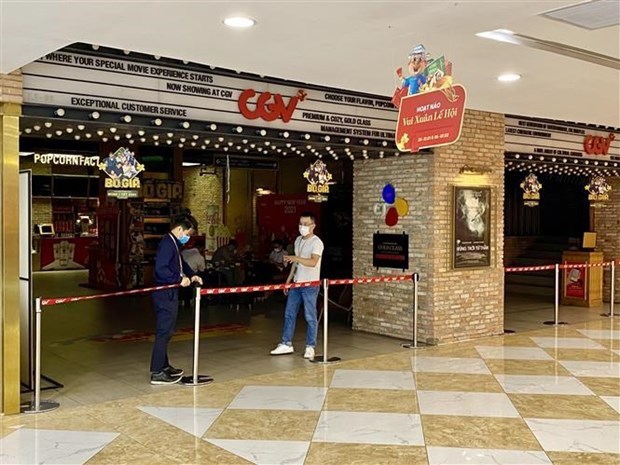 At a cinema in Ho Chi Minh City 
Earlier from 6pm on April 30, karaoke parlours, discotheques and bars in the city were also ordered to close.
Director of the municipal Health Department Nguyen Tan Binh said the city has so far discovered 260 infection cases, 233 of them have been given all-clear from the coronavirus.
About the COVID-19 cluster from patient No.2899 in Ha Nam, one in Ho Chi Minh City was found to be infected. Via contract tracing, the city discovered 40 F1 and 74 F2 cases, all tested negative.
More localities suspend bar, karaoke parlours amid Covid-19 spread
Danang City and Lao Cai Province have decided to close bars and karaoke parlours from May 3 for Covid-19 prevention.
Under the request of the central city of Danang People's Committee, besides bar and karaoke services, local gaming cafes and pedestrian streets have to be suspended from Sunday midnight.
Meanwhile, the northern province of Lao Cai's authorities have also ordered the closure of cinemas, gaming cafes and sports centres from Sunday midnight.
The move followed the Covid-19 infection of a Chinese expert who travelled to these two localities. Many people in Danang and Lao Cai have been defined to have close contact with the Chinese man.
The southern central provinces of Khanh Hoa and Binh Thuan have decided to shut the same services from Monday.
Earlier, Hanoi and HCM City decided to suspend bars, karaoke parlours when the pandemic has tended to expand in Vietnam.
Vietnam News Agency reported that after locally-infected cases were detected in late April, localities around the country tightened epidemic prevention measures.
The Health Ministry urges all people to wear a facemask, disinfect, keep social distancing, not gather in large numbers and make health declarations, so as to contain the pandemic.
An additional 6,143 people received their first Covid-19 vaccine shots on May 2, raising the total number of people receiving their first shot to 532, 247, most of whom work on the frontline of the pandemic mitigation efforts.
Ministry of Health proposes shutdown of nonessential services amid COVID-19 spread
The Health Ministry has asked all localities throughout the nation to suspend the operation of nonessential services like bars, karaoke parlors, discotheques, and gaming facilities due to the potential risk of coronavirus transmission.
Deputy Health Minister Do Xuan Tuyen on May 2 warned local administrations about the growing numbers of fresh domestic coronavirus cases and high risk of COVID-19 transmission across numerous localities following the end of the four-day national holiday running from April 30-May 3.
The ministry also suggested grinding to a halt to crowded events like festivals, walking streets, and night markets, while advising all citizens to strictly comply with anti-pandemic measures, with a particular focus on donning mask in public, duly punishing violators.
A number of high-risk localities have closed nonessential services in an effort the slow the spread of the coronavirus pandemic to the wider community.
After nearly two months without recording any new community infections, 24 have been detected by the health ministry since April 29 in four localities, including Ha Nam, Hanoi, Vinh Phuc and Ho Chi Minh City,  with 18 connected to a Ha Nam man who returned from Japan and tested positive for the SARS-CoV-2 virus two days after finalizing 14-day quarantine period, and six having close contact with Chinese experts who tested positive after returning home from Vietnam.
VNA/VOV/Dtinews

The border guards at Ha Tien international border gate in the southern province of Kien Giang are on duty day and night to patrol and control the southwestern border line to prevent another Covid-19 outbreak.