Loopholes in regulations designed to deter the illegal operation of contract passenger buses have been one of the main causes of difficulties for legal passenger buses on fixed routes in recent years, transport enterprises have said.
 Buses cancel routes, claiming unhealthy competition from 'limousine' services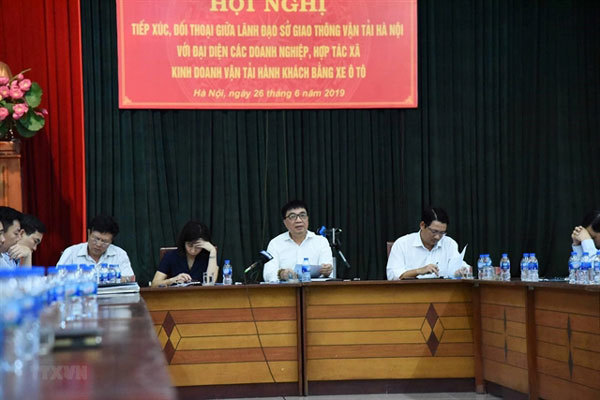 Vu Van Vien, director of Ha Noi's Transport Department, leads talks between the department and 97 representatives from transport enterprises and bus stations to find solutions to curb the illegal operation of bus services in the city. — VNA/VNS Photo Tuyet Mai
At talks between leaders of Ha Noi's Department of Transport and representatives of transport enterprises and bus stations held last week, most of the enterprises said the illegal operation of contract passenger buses needed to be solved.
A representative of a transport enterprise in northern province of Yen Bai said the regulations on passenger buses operating on fixed routes were quite strict while those for contract service cars remained loose.
Buses with fixed routes are required to enter and leave coach stations at set times to collect and drop off passengers, even when many seats were unoccupied.
Contract buses, which are supposed to have fixed contracts with passengers before the journey, have found different ways to get as many as passengers as possible. They often circle around coach stations to collect passengers along the way and fill in their names later. They operate in the early morning and late at night to avoid being stopped by traffic police.
Chairman of the Board of Executives of Dien Bien Automobile Transport JSC Nguyen Vu Manh agreed, saying illegal bus stops have been located around My Dinh Bus Station for years.
He suggested the transport department make departure times flexible, or else passengers would choose illegal bus services instead.
Do Van Vinh, director of Ha Noi Bus Company, said the illegal bus stops have remained popular in recent years, making owners of buses with fixed routes hesitant to invest further in the business.
Vinh said the department needed to take drastic measures to curb illegal contract bus practices.
Nguyen Van Quyen, chairman of the Viet Nam Automobile Association, said it was necessary to tighten regulations on the operation of contract bus services and create healthy competition between the two kinds of services.
At the talks, head of the department's Transport Office Dao Viet Long said common violations by contract passenger buses included collecting passengers before contracting them for the journey, setting up representative offices or headquarters in empty spaces to avoid traffic inspectors, loading and unloading cargo and picking up or dropping off passengers at illegal bus stops and operating without required badges.
This has worsened traffic congestion in the city, he said.
Vu Van Vien, director of the department, said the department has collected opinions from enterprises.
The department will propose changes to the Ministry of Transport to solve the problems, foster competition and make serves convenient for passengers, he said.
VNS