The ninth global symposium on Whitmore disease opened in Hanoi on October 16, attracting over 100 scientists from 26 countries.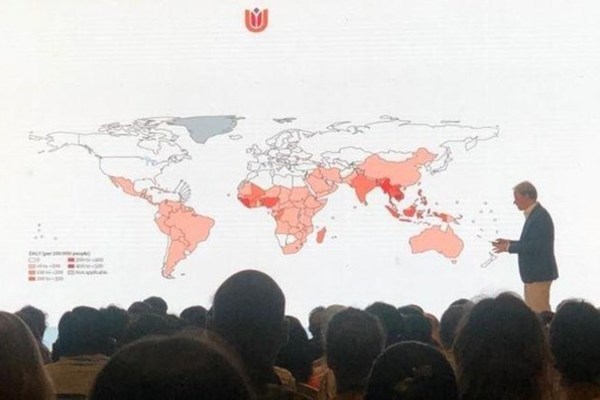 At the symposium
The three-day event is the largest of this kind, held every three years, focusingon the most outstanding and typical research results about Whitmore, and sharingexperiences on early diagnosis and treatment techniques.
Clinical and technical knowledge, technologies for disease detection and diagnosis,as well as antibiotics for disease treatment are being updated at the event.
Dr. Trinh Thanh Trung, Director of the Institute of Microbiology and Biotechnology ofVietnam NationalUniversity, Hanoi, said the disease has been quickly spreadin the community and on the media, with false information, causing anxiety amongthe community.
Whitmore (Melioidosis) is an infectious disease caused by a Gram-negative bacterium called Burkholderia pseudomallei. Mostpeople infected with this experience no symptoms. B. pseudomallei bacteriaare found in contaminated soil and water and spread to humans and animalsthrough direct contact with the contaminated source. However, there is no conclusive scientific evidence for human-to-human oranimal-to-human transmission in air.
Dr. Do Duy Cuong, Director of the Centrefor Tropical Diseases of  Bach MaiHospital, said that this is a forgotten disease.
The disease recently were recordedin not only in Vietnam, but also in many countries in the region such asCambodia, Thailand, Laos, Australia, India and many African countries, mainlylow- and middle-income countries, he added.
At the workshop, scientists also proposed rapid tests to diagnose the diseaseas the current diagnosis takes from five to seven days or even more./. VNA

The latest case of Whitmore's disease, also known as melioidosis, was reported at Hanoi's Duc Giang General Hospital on Monday.
Cases of Whitmore's disease, also called melioidosis, has increased remarkably during the rainy season with a high rate of mortality, director of the National Hospital of Tropical Diseases Do Duy Cuong said.