Pavements are increasingly encroached upon in Hanoi during the final months of the year as shopping demand rises.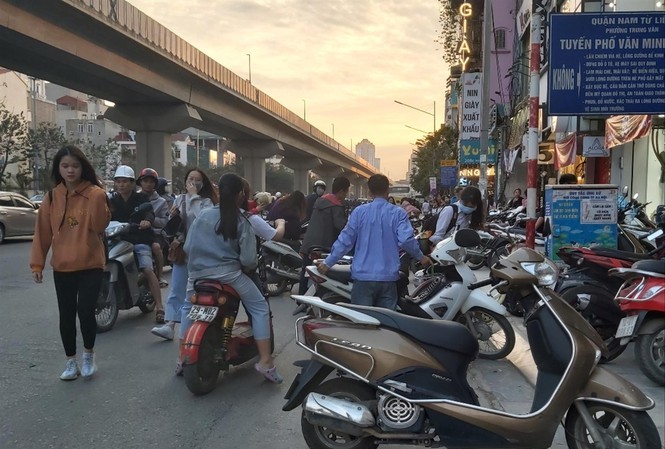 Pedestrians on Nguyen Trai Street
Despite efforts to clear up the pavements, the problem has never been resolved in the capital. Along popular clothing street Chua Boc Street, rows and rows of vehicles take over the pavements. The pedestrians have to walk on the streets and cause congestion.
On Hang Ma Street, the pavements have become a part of the stores as products are put on display everywhere. Pedestrians and drivers try to avoid each other on the small street. The local authorities have put up signs at Hang Ngang-Hang Bac intersection but the pavements are still used as parking lots.
The pavements along Nguyen Trai, Ton Duc Thang and Tay Son streets are also in the same situation. In some areas, even the roads are used for food stalls.
Nguyen Thanh Huu, a tourist from Danang, said, "This problem must be dealt with immediately. Especially at tourist attractions. It's dangerous when pedestrians have to walk on the street when they encounter an illegal parking lot."
The plan to clear up the pavements was started since March 2017 but the rules are flouted in many areas.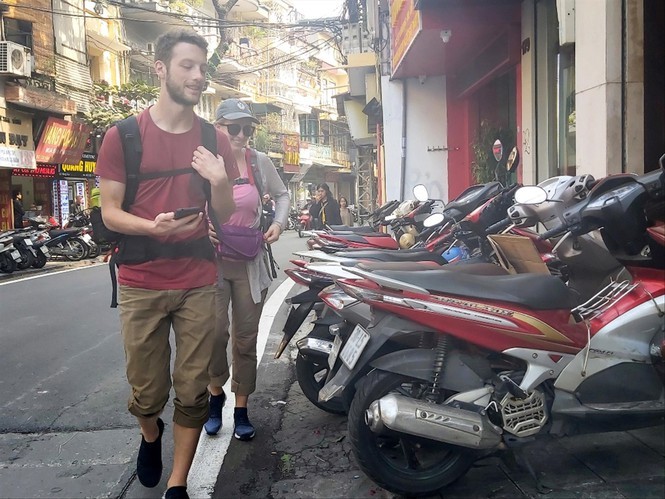 Hang Ngang-Hang Bac intersection
Tran Thanh Thao, a resident on Nguyen Trai Street, said many clothing and cosmetic stores have been opened recently at the junction of Nguyen Trai and Luong The Vinh and pavements were used as parking lots.
"During rush hours, the pedestrians have to walk on the street and there are motorbikes that run on the wrong lane. There have been several collisions," she said.
Nguyen Xuan Thuy, former director of the Transport Publishing House, said the authorities need a comprehensive plan to deal with the problem completely such as public awareness problem and installing cameras to monitor violations. He blamed weak urban planning and corruption for the lack of parking lots.
Prime areas have been used to build apartment complexes or shopping centres. In the city urban planning to 2020, Hanoi will use 400ha to build parking lots but nothing has been done until now.
"The city leaders must take responsibility for the pavement violations, not any other agency," he said.
Tien Phong/Dtinews

The HCM City Traffic Safety Management Board has instructed relevant district agencies to find and punish encroachment of roads and pavements.