Hanoi's Police Department raided more than 20 bars and pubs in the Old Quarter area at midnight on Monday, seizing nearly 10,000 funky balls and dozens of nitrous oxide tanks.
Vietnam's Health Ministry warns against use of 'funky balls'
Funky balls could be added to list of drugs
Funky balloons are no laughing matter in Vietnam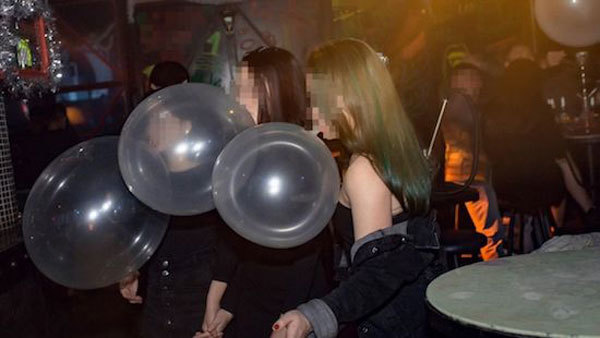 Funky balls were found for sale at many pubs and bars in the Old Quarter of Hanoi. — Photo congly.vn
Cigarettes and alcohol lacking clear origin were also seized, according to Colonel Phung Anh Le, head of the department's Economic Police Unit.
As many as 250 police officers from the Hanoi Police Department and the city's Market Watch inspected more than 20 pubs and bars in the Old Quarter of Hoan Kiem District and found funky balls being consumed.
Previously, the Vietnam News Agency reported on the popular sale of funky balls, or nitrous oxide-filled balloons, in the Old Quarter of Hoan Kiem District despite the city's ban on the gas.
The city's Police Department had asked Hoan Kiem District's Police to inspect and deter pubs and bars that sold funky balls, especially on Ma May and Luong Ngoc Quyen streets in the city.
Nitrous oxide has been imported by the health sector as an alternative to anaesthetics. The nitrous oxide-filled balloons, known as funky balls, have become popular among youngsters as they induce laughter after inhaling the gas.
Health experts have warned about the addictive affects and negative impacts on health, such as dizziness, mental impairment and hearing and visual hallucinations.
VNS