At Noi Bai Airport in Hanoi, passengers who are returning from HCM City are separated in a particular zone, and some of them are randomly tested for Covid-19.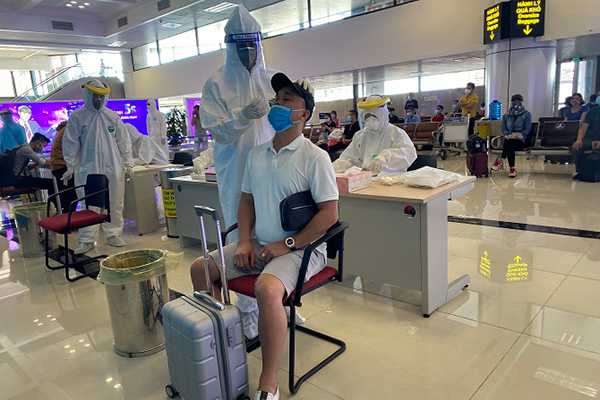 Health workers take samples from passengers at Noi Bai Airport for rapid testing of Covid-19. Photo: Hanoi Department of Health
Director of the Hanoi Department of Health Tran Thi Nhi Ha said that this measure was being applied because the epidemic situation in some areas has become complicated, particularly in Ho Chi Minh City.
This will be implemented for seven to 10 days at the airport, with about 1,000 passengers to be tested. On June 16, the first day, 97 random samples were taken and all gave negative results.
In addition to testing passengers at the airport, Hanoi will organize covid-19 tests in industrial zones and industrial clusters.
The quick screening is expected to help the city decide suitable prevention and control measures regarding people arriving from pandemic-hit areas as well as take prompt actions when detecting COVID-19 cases. Apart from the airport, similar tests are also underway at local industrial clusters.
According to the Director of the Hanoi Department of Health, Hanoi is taking timely response measures in the prevention and control of the Covid-19 epidemic. The city's strategy in disease prevention and control in the coming time is to proactively detect, prevent, investigate, and promptly trace and vaccinate.
Vietnam logged 81 locally-transmitted cases of COVID-19 in the past 12 hours to 6am on June 18, raising the national count to 12,231, according to the Health Ministry.
Among the new infections, 60 were found in Ho Chi Minh City and 21 in Bac Giang. Of them, 76 were detected in quarantine or blocked areas.
So far, the country documented 10,564 domestic infections and 1,667 imported ones.
The number of cases since the fourth wave of the pandemic began on April 27 was 8,994.
The capital has logged a total 736 cases of COVID-19 so far.
Huong Quynh

A mobile air-conditioned COVID-19 testing booth has been set up and put into use in the current COVID-19 hotspot of Bac Giang Province 

CEO Nguyen Tu Quang of BKAV Group said that the company has developed a Covid-19 test that only requires a person to gargle with salt water (sodium chloride 0.9% solution).