The Hanoi Centre for Disease Control (HCDC) recorded 10 new cases of COVID-19 on Monday morning, including two cases relating to SEI Company and eight cases related to people returning to the capital from HCM City.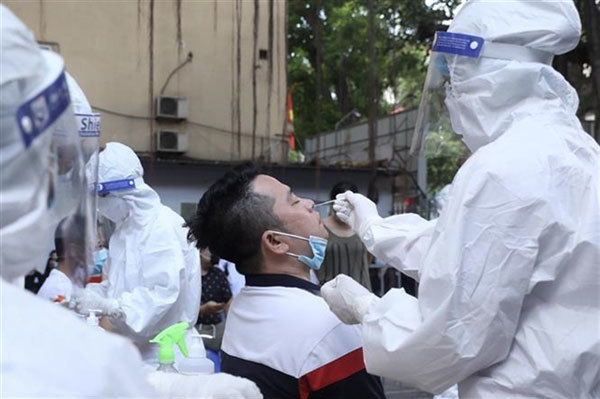 Health workers conduct COVID-19 testing for people return from HCM City in Hai Ba Trung District on July 10. — VNA/VNS Photo Minh Quyet
The two cases at SEI Company are workers of the company in Dong Anh District. They were isolated on company property on July 5 after coming into contact with another member of staff who tested positive (patient 21,330).
Two other patients who live in Hoa Xa Commune, Ung Hoa District, returned from HCM City on July 4. Another patient in My Dinh, Nam Tu Liem District, returned from District 12 in HCM City on flight QH244 on July 4.
The five other patients came into contact with a different group of returnees from HCM City. Four reside in Quoc Oai District and one in Hoang Mai District.
These five patients had contact with four members of a family positive for SARS-CoV-2 in Hoa Voi Village, Quoc Oai Town, Quoc Oai District. The family returned to Hanoi from HCM City on flight VN266 on July 2 and were announced positive on July 11. 
After two days of testing and screening people returning from HCM City, Hanoi discovered 18 cases positive for SARS-CoV-2, with eight in Quoc Oai District, five in Hai Ba Trung District, three in Ung Hoa District, one in Hoang Mai District and one in Nam Tu Liem District.
Also on Monday morning, CDC announced locations COVID-19 patients in Hanoi visited. It recommended Hanoians who visited the following locations self-isolate at home and immediately contact their local health station or medical centre or call the hotline 0969082115 or 0949396115.
The locations are:
Bus No 68 from Nội Bài Airport to Hà Đông District, July 9, from 2.30pm
189 Bà Triệu Street, from July 5 to 11, from 8am to 5pm
117 HA Nguyễn Công Trứ Street, Hai Bà Trưng District, July 5 to 11
Chicken noodle shop, 84 Tô Hiến Thành Street, July 5 to 11, 7am to 7.30am
Quang Huy Café, 270 Bà Triệu Street, July 5 to 11, 6am to 6.45am
75 Bùi Thị Xuân, Hai Bà Trưng District, July 5 to 11, 11am – 12pm, 6pm to 7pm
My Hotel Night Ha Noi, 89 Bùi Thị Xuân Street, July 4 to 11
Phương Liên bún chả shop, better known as 'Bun cha Obama' on 24 Lê Văn Hưu Street, July 8, 6pm to 7pm.
 
Source: Vietnam News

Hanoi will organize the largest ever Covid-19 vaccination campaign with three options, with the highest number of vaccinations to reach 200,000 per day.