"We eat a meal for just VND2,000 (US$0.09) at Tiệm cơm An Phúc (An Phúc Charity Restaurant) on Hanoi's Giai Phong Road every Saturday afternoon," said Nguyen Thi Phuong. 
Image: Free stuff on the streets of Hanoi
Food donations warm hearts of recipients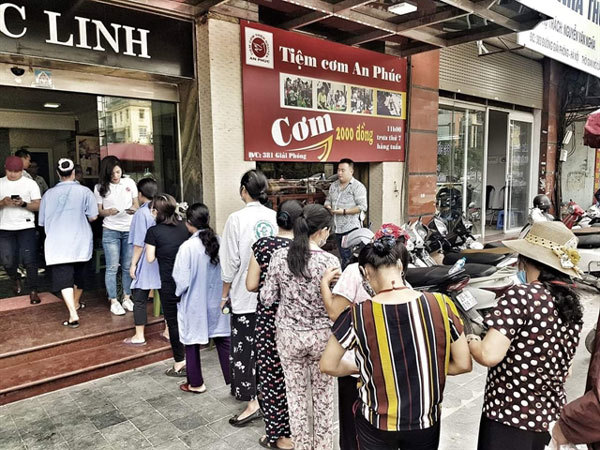 COM ONE, COM ALL: People wait in a long queue for Cơm 2k. Photos Viet Ha
Nguyen Thi Phuong, who has spent the last several years looking after her mother who is on dialysis at Bach Mai Hospital.
"Since it opened last June we have been coming to the restaurant because here we can enjoy nutritious dishes which often cost VND30,000-40,000 ($1.30-1.70) at other shops in the city," Phuong said.
She said many of Bach Mai Hospital's poor patients and their relatives from Ha Giang, Tuyen Quang, Hung Yen, Yen Bai, Son La and other remote provinces often come to the eatery.
"With only VND2,000 we can choose any dishes from the fried or braised fish, shrimp, boiled or fried pork, chicken, roasted peanuts, tofu, pickles, vegetables and deserts such as seasonal fruits," Phuong said.
"The fresh foods are nutritious for the weak patients, helping many of them regain their strength," she said.
Chu Viet Ha, head of Thiện Nguyện An Phúc Club which runs the restaurant, told Việt Nam News that at first the restaurant offered 11 different dishes but diners said it was more than they could eat.
"After eight months, we reduced our offering to nine dishes," Ha said.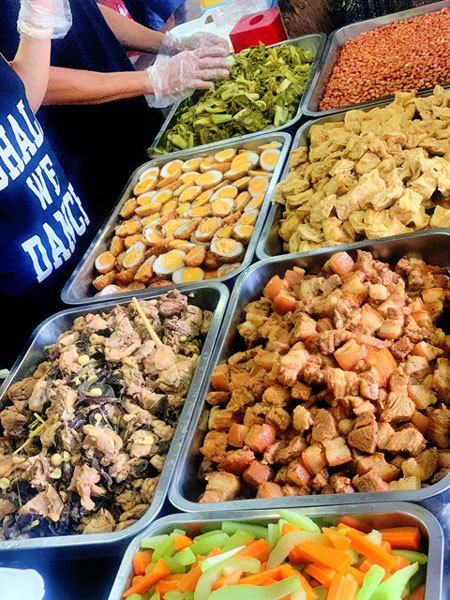 GRAB A BITE: Cơm 2k's tasty and abundant food is ready to serve needy people.
Asked about the name of the restaurant, Ha said: " We named our restaurant Tiệm Cơm 2k to be different from the others. Our proper name is Tiệm cơm An Phúc. The price of VND2,000 is only a symbol. We place a box in front of the restaurant and people who dine here can choose if they want to put money in the box."
"We do so because we respect poor people. Although the price is cheap, they still buy it with their own money," Ha said, adding that his club planned to start opening Cơm 2k on Sundays too.
Early in the week, the club sets the menu and makes sure it will have enough food for about 400 people. They are patients, their relatives, labourers, street vendors, motorbike drivers and many other things besides.
"All of them are welcome in our restaurant; they can eat until full," Ha said. "They can also take food home for patients too weak to come to the restaurant."
A motorbike driver from Hanoi's Hai Ba Trung District, 60-year-old Nguyen Van Hoan, said he found out about the restaurant by chance when a customer asked to be taken there.
"At first I did not believe the price was so cheap until a volunteer welcomed me and said I could get in the queue," Hoan said. "The meal is fresh and tasty and the restaurant is cool during the hot day, so I come here every Saturday afternoon."
He said he often eats similar meals at other eateries for VND40,000 or more.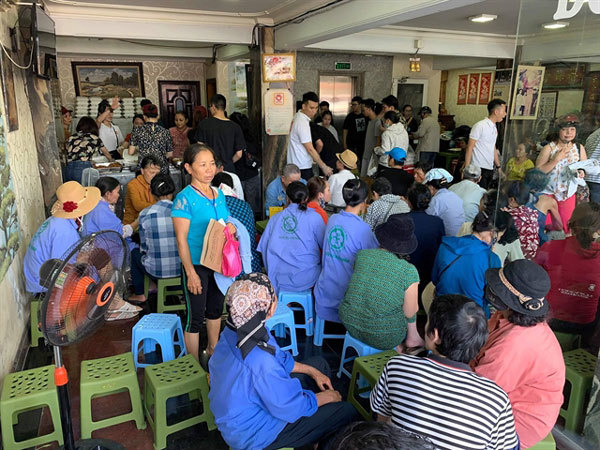 LUNCH RUSH: More than 400 people enjoy Cơm 2k every Saturday.
"I'm very moved by being served by volunteers who often ask me how I'm feeling," Hoan said. "I want to thank the club and I hope more places like this will be available in the city to help poor and needy people."
The meal is cooked by a professional chef with help from the club's 50 members.
The chef assigns each group's task such as ordering rice or other ingredients.
Volunteer Nguyen Thi Khanh said she joined the club because she wanted to help disadvantaged people.
"Whether it is hot, cold or rainy, all of us are ready to help," Khanh said.
Thiện Nguyện An Phúc was established in 2010. The club's first task was to call for donors to help build bridges and schools in remote, isolated areas of mountainous Ha Giang, Cao Bang, Lang Son and Dien Bien provinces.
"So far we've helped to build 26 schools in these provinces," Ha said.
Donors wishing to help needy people can call the club at 09 684 88888 or email Thiennguyenanphuc@gmail.com.
Tiệm cơm An Phúc is at 381 Giai Phong Road in Hanoi's Hai Ba Trung District. VNS
Nguyen Thanh Ha