The National Committee for Traffic Safety and the Hanoi People's Committee jointly launched a walking in the capital city on May 12 to call for actions against drunk driving.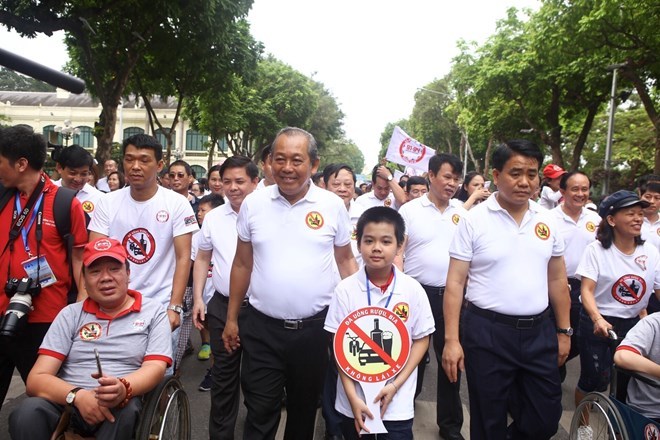 Deputy Prime Minister Truong Hoa Binh (centre) joins the walk
Speaking at the event, Deputy Prime Minister Truong Hoa Binh, who is also head of the committee, urged local people and international visitors not to drive after drinking.
Binh said the government will add stricter penalties to punish drivers whose alcohol concentration in blood or breath exceed the permitted level.
He requested competent agencies to increase patrols to promptly detect violators and impose fines on them, saying that such move aims to protect the violating drivers themselves and the community as a whole.
According to the Deputy PM, the death toll from traffic accidents in Vietnam decreased from nearly 12,000 in 2012 to over 8,000 last year. It means traffic accidents, on average, still claim the lives of 21 people and injure 40 other each day.
Recently, drunk driving caused a series of accidents, particularly the two taking place on April 22 and May 1 that took the lives of three people.
Nguyen Quang Nhat, head of the traffic law dissemination division under the Ministry of Public Security's Department of Traffic Police, said more than 91,000 cases of alcohol concentration violations were handled by functional forces last year.
In the first four months of 2019, nearly 50,000 cases of alcohol concentration violations were dealt with.-VNA