Hanoi authorities have started shutting down the cafes along the popular railway line on Dien Bien Phu to Phung Hung Street on October 10.
After it was announced that the train track cafes would be shut down, even more tourists and local people flocked to the railway in the past week to take the last photos before the ban.
At some points, trains were forced to reroute due to the huge number of visitors on the railway. 
Local cafe owner Tuan said the authorities started visiting the scene and giving out warnings three days ago.
"It's a shame since the place attracted many tourists. Many people think this is a unique feature of Hanoi," he said.
An English tourist also said it was regrettable to close the area.
The hundred-year-old train and railway that are still in operation are not common so the authorities should find a better way to manage the area.
A representative of Vietravel pointed out that Thailand also had a railway market and businesses return to usual after the train passes.
Writer Nguyen Ngoc Tien, who has many works about Hanoi, agreed that it was a waste to close such popular tourist attraction.
He suggested that cafe owners should let visitors stay indoors or on the rooftops to ensure railway safety. 
The Railway Police Department said they often worked with the people's committees of Hoan Kiem, Ba Dinh and Dong Da to deal with violations on railway corridors.
According to the department, tourists flocked the railway again just 30 minutes after the inspection team left.
The police admitted that since the railway and buildings were built long ago, the safety distance is not ensured in many sections. They blamed lax management and light punishments for violations.
At 8 am on October 10, the police put up barriers at the entrances to prevent tourists from entering the popular area.
The police will clear the local people and tourists off the track depending on the train schedules. In the future, the authorities will call on the locals to remove parts of buildings that could encroach on the tracks.
 Police put up barriers on the railway on October 10. Photo by Doi song & Phap ly
 A warning banner. Photo by Doi song & Phap ly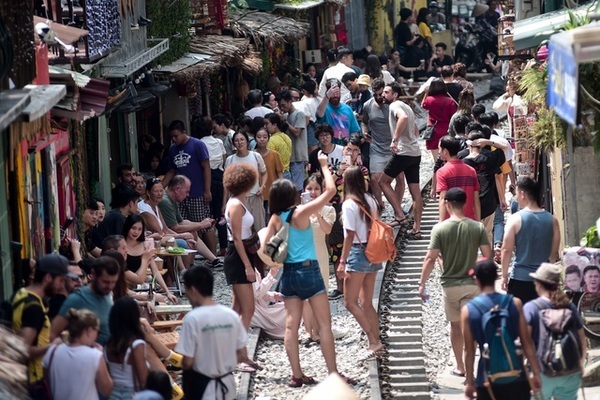 The railway used to be a popular tourist destination in Hanoi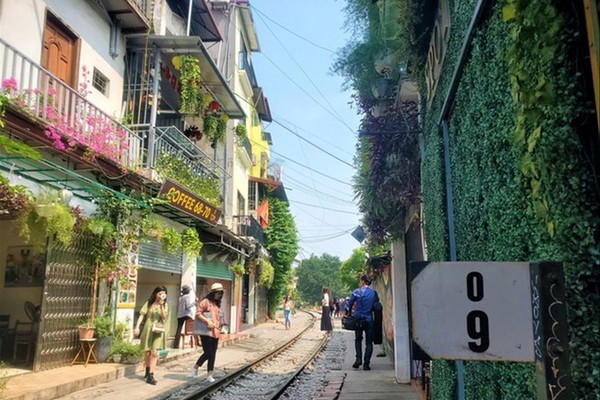 The popular railway line become quiet on October 10
Tien Phong/Dtinews/Vietnamnet

A train had to make an emergency brake travelling on a railway section in Hanoi which has become a famous tourist site in the city.

The interest in the thrilling railway cafes shows the limited awareness of railway safety. It is improper to do business in an operating railway.

A railway track crossing inside Hanoi with many small booths and rows of houses on two sides is considered a unique feature in the capital city.