Hanoi intendeds to bury electrical wires and cables underground along its streets, however, the work has remained sluggish.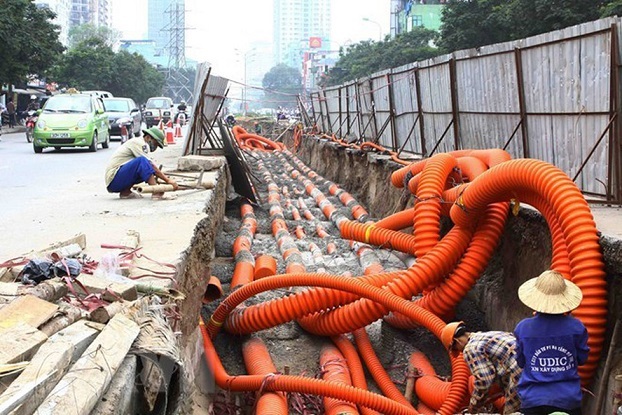 Hanoi has signed an agreement on putting the city's electrical wires and cables underground in the 2016-2020 period with Vietnam Posts and Telecommunications Group (VNPT), Electricity Group of Vietnam (EVN), MobiFone Corporation and Viettel Group.
The project was divided into four phases. In the first three phases, the city targeted to finish 121 streets but in reality, the work was nearly completed on 85 streets.
Until now, the work has not yet been done dozens of local streets.
The Hanoi Department of Construction has urged to speed up the work, however, firms which conduct the project have still been in the stage of completing design documents.
According to the construction department, the main reason for the slow progress was that the city had requested power and telecom companies to work on the project at the same time to save time and money as well as avoid overlapping.
The reality is that the requirement has caused some obstacles because if one of the parties involved is delayed due to issues regarding labour or finances, the others are held up too.
Meanwhile, the capital for the project is a matter of concern. Hanoi pledged to spend VND1.5 trillion (USD65.2 million) for the project and each of the telecommunications units involving in the project also committed VND500 billion (USD21.7 million).
However, Nguyen Anh Tuan, deputy general director of EVN, said that EVN spent more than the pledged investment for the project.
Nguyen Manh Hung, a representative from the Hanoi Department of Construction, said that to facilitate the work, municipal authorities have simplified licensing procedures for companies.
Last week, Hanoi People's Committee announced a plan to re-surface pavement on nearly 300 streets in the city with natural stone, tiles or concrete bricks. The re-surfacing is for streets where electrical wires and telecommunication cables are already underground.
Dtinews/VNN