Excellent students from Cau Giay district in Hanoi recently received gift boxes with nothing inside except blank paper. Some students felt they had been deceived.
The Cau Giay district education sub-department on May 21 organized a ceremony on honoring outstanding students at general schools in the district, who had excellent learning records and won high prizes at the city's competitions.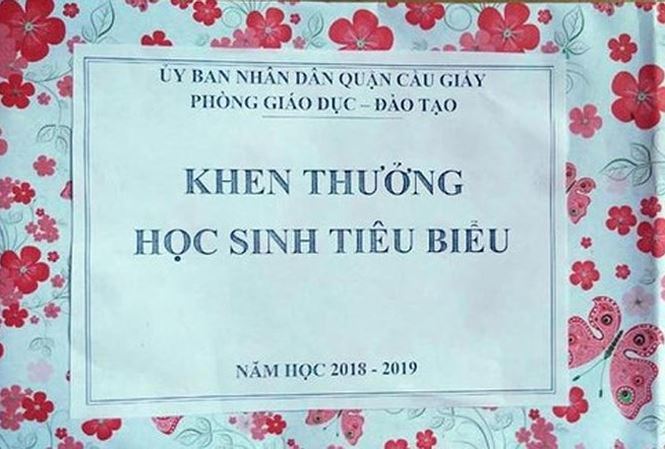 Students were given empty boxes
Each student was awarded a big box of gifts. But it was an empty box with one blue paper inside and no information on it.
Tien Phong newspaper reported that some students burst into tears when they opened the boxes to show off the awards to their family members and saw nothing inside.
Each student was awarded a big box of gifts. But it was an empty box with one blue paper inside and no information on it.
Later, head of the Cau Giay district education sub-department Pham Ngoc Anh, sent a letter apologizing to all the parents and students at primary and secondary schools in the locality for the empty gift boxes.
He explained that instead of giving money directly to students as awards, the sub-department transferred the money to schools, and the schools had the responsibility of delivering the money to students before the ceremony took place. With this method, students, especially small children from primary schools, would not lose their awards in cash.
However, some schools could not deliver the cash to students before the ceremony, so, this led to a misunderstanding.
Some parents criticized the 'initiative' of the education sub-department, saying that by doing this, the educators seemed to be teaching students to deceive other people.
"The way of awarding excellent students in Cau Giay district shows the 'achievement disease' of adults, which is a lesson about dishonesty," Huynh Minh Hung, a parent, commented on his Facebook.
Meanwhile, some other parents think it was wrong to give students money as awards.
"There is a saying 'gift is not as important as the way it is given'. Students will feel happy if they can receive textbooks, pens or pen cases, rather than big amounts of money," said Nguyen Thu Hang, whose daughter is a student at the Cau Giay Secondary School, adding that learning aids would encourage students' study.
She also criticized the method of awards applied by the district's education sub-department.
"I can imagine how students, who were eager coming to the stage and receiving awards, felt disappointed when they saw nothing inside the boxes," she said.
Meanwhile, Tran Thanh Nam, a psychology expert from the Hanoi University of Education, commented that the awards may make students think they have to be actors on stage to help adults achieve certain purposes.
Mai Thanh

In a two-week period ending on June 4, secondary school graduates took a series of important exams in their lives.

"Without him, the association of Vietnamese students in ROK wouldn't have grown to where it is today," said Nguyen Thanh Long, the first chair of the association.