A driver of an unlicensed taxi firm in Hanoi was made to pay a fine and had his driving licence revoked for two months after cheating a British man.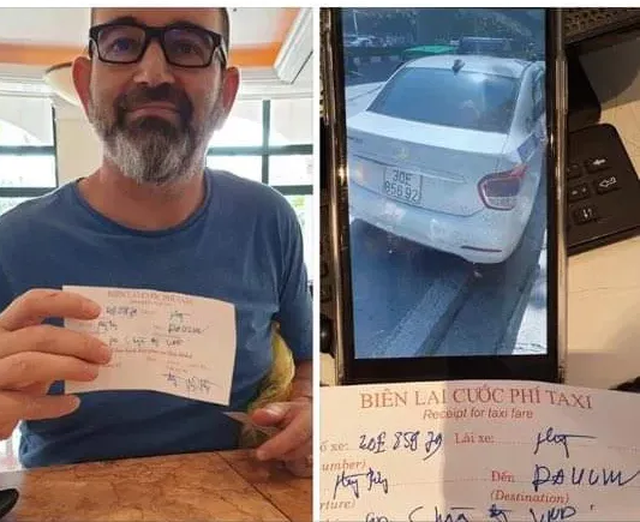 John Hemery showed the evidence of being overcharged by the taxi driver
On Tuesday, Dang Quoc Hung, 44, from the unlicensed Nam Viet Taxi Company transported John Hemery for five kilometres from Phung Hung Street near Hoan Kiem Lake to Daewoo Hotel in Ba Dinh District.
The metre showed a charge of just VND96,000 (USD4.17), but Hung took the advantage of the language barrier and charged him up to VND960,000.    
Hemery gave Hung VND800,000 (USD34.7) but was suspicious about the price. He took some photos of the car which did not have a badge.
Around an hour later, the case went viral on the internet and Hung came back the hotel to give back the money to Hemery.
According to Bui Ngoc Tan, head of Ba Dinh District's Transportation Inspection Board, the car driven by Hung was registered by Phu An Im-export Investment Ltd. Co. It has been seized for seven days. Hung's driving licence has been confiscated for two months. He also had to face a penalty of VND4.7 million (USD204) for theft.
Meanwhile, Phu An Im-export Investment Ltd. Co. was fined VND10 million for handing over the car for Hung without having a taxi badge. Dtinews

Regarding a driver of pedicab overcharging a Japanese tourist VND2.9 million ($124.6) for five-minute trip back to his hotel in HCM City recently, the driver has been temporarily seized for investigation.