Nineteen investors have been appointed by the Ha Noi People's Committee to conduct research and draw up plans to renovate and rebuild 30 old apartment buildings in the city.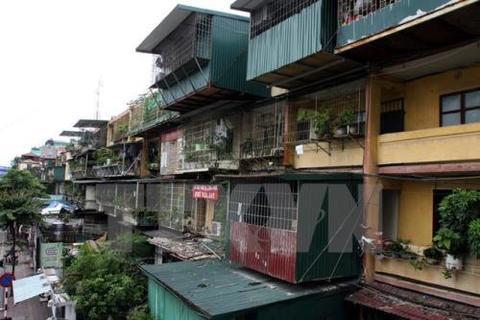 An old apartment buildings in Ha Noi.
Among these buildings, five of them were being appraised by the Ha Noi Authority for Urban Planning and Architecture and will be submitted to the committee for approval, said the department's deputy director, Nguyen Trong Ky Anh.
Reconstruction plans for 17 other buildings had been submitted to the committee's leaders, Anh said during a working session with the Ha Noi Party Committee this week.
The municipal People's Committee had asked investors to team up with committees in relevant districts and wards to conduct additional sociological surveys that could be used as a basis for proposed planning ideas, according to Anh.
He added that investors had hired domestic and foreign consultants to develop construction plans while seriously taking into account the opinions of related individuals, organisations and departments.
Under their proposals, some dilapidated apartment buildings in Ha Noi with inadequate social infrastructure and essential infrastructure facilities would be renovated and rebuilt to modern urban standards, Anh said.
In the near future, the capital would submit a detailed report on the difficulties it faced renovating and rebuilding old apartment buildings to the Prime Minister, petitioning him to revise some content related to planning.
According to the Ministry of Construction, Ha Noi had more than 1,500 old apartment buildings constructed between 1960 and 1990, most of which were located in the city's inner districts.
Ten years after starting renovation work on old apartment buildings, the city has renovated and put into use just 14.
In order to accelerate the work, experts said that mechanisms related to land compensation, investor selection and resettlement must be completed.
The benefits for each side (investors and residents) should also be clarified, they said.— VNS

HCM City authorities plan to open historic buildings to visitors to boost tourism.  

Instead of works for public interest, multistory buildings in Hanoi have arisen on land where factories and administration offices were located in the past.