Nearly 2,000 trees and 820 lampposts will be relocated to narrow pavements and medians on 15 streets in Hà Nội.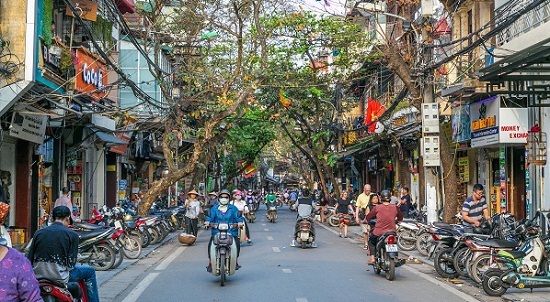 Rows of trees on Láng Road in Hà Nội. — Photo phapluatmoitruong.vn
The pavement narrowing and street expansion plan is part of the efforts of the city's Transport Department to curb traffic congestion.
Old trees with trunk diametres of between 0.1 and 0.5m will have their roots dug up and moved to other locations.
Rotten trees or those which cannot regrow will be chopped down and have their branches and trunks cut for woods.
Pavements of these streets will be narrowed from 7m to 3m.
The medians of 12 streets, including Hoàng Đạo Thúy, Hoàng Quốc Việt, Lê Văn Lương, Phạm Văn Đồng, Nghĩa Tân, Trần Cung, Phạm Tuấn Tài, Liễu Giai, Văn Cao, will be cut from 11.5m to 4m.
Under the city's street renovation plan, the Thanh Trì Bridge and bridges along Láng Road will also be repaired.
In addition, the road surface on Thăng Long Avenue will be upgraded.
In early 2019, 476 trees were relocated or cut down to narrow pavements and expand streets on Láng Road, Belt Road No 3 section through Phạm Hùng, Khuất Duy Tiến, Nguyễn Xiển and Nghiêm Xuân Yêm roads. More than VNĐ125 billion (US$5.3 million) was invested in this project. — VNS