Hanoi authorities plan to provide free COVID-19 vaccinations to all residents, said a senior official.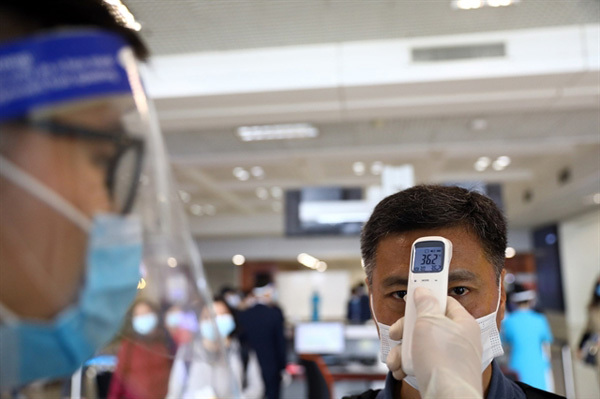 Passengers have temperatures taken before boarding their flights at Noi Bai International Airport. — VNA/VNS Photo Huy Hung
Secretary of the Hanoi Party Committee Vuong Dinh Hue asked concerned agencies to prioritise the purchase of vaccines for all residents using the local budget and mobilising other legal resources at a meeting of the Standing Board of the People's Council of Hanoi on COVID-19 prevention and control on Tuesday.
A timeframe for the inoculation programme was not disclosed.
He asked the health sector to review its medical resources and consider mobilising retired health workers in the fight against the pandemic.
As of late February 2, Hanoi has recorded 21 COVID-19 infection cases relating to the recent outbreaks in the nearby provinces of Quang Ninh and Hai Duong, according to the Department of Health.
Since January 27, 572 suspected F1 cases have been quarantined and tested, with 16 positive, 443 negative once and the rest were waiting for test results.
In addition, 5,073 other people who had contact with F1 cases have been quarantined at their residence.
While praising the efforts of agencies and local authorities in COVID-19 prevention, Hue pointed out shortcomings which must be addressed.
A large number of local residents have not yet strictly complied with the Ministry of Health (MoH)'s 5K message namely wearing masks, frequent disinfection, maintaining a safe distance, refrain from gatherings and making health declarations.
He asked agencies and units to consider the fight against the pandemic the leading and urgent task before, during and after the Tet (Lunar New Year) holiday while maintaining production and trade.
"We are carrying the dual target of fighting the pandemic and recovering the economy but continuing to fight the COVID-19 pandemic is the main task," Hue said.
He requested reviewing the efficiency of combating the pandemic in residential areas, villages and the city, and working to improve testing capacity.
He directed the city's Steering Committee for COVID-19 Prevention and Control to provide testing for a wider range of COVID-19 suspected cases, including F1 and F2 cases, returnees from coronavirus-hit areas, people with a high risk of infection at quarantine camps, health workers and other forces on duty.
The health sector was asked to work with the MoH to test staff at Noi Bai International Airport and students at FPT University, workers at Z153 Factory in Me Linh District and residents at Times City, where infections have been detected.
All F1 cases must be tested before February 4, Hue said.
Five inspection groups of the standing board of the municipal Party Committee were urged to enhance inspection at high-risk areas such as industrial zones and schools.
The municipal People's Committee directed units to calculate demand for necessities in the city, increase online trade activities, and promptly publicise information related to the pandemic, he said.
Earlier, municipal authorities adopted a number of measures to stamp out the current COVID-19 outbreak.
Hanoi authorities also decided to scrap all but one firework shows on Lunar New Year's Eve, instead of 30 as planned amid the COVID-19 outbreak.
The city decided to shut down all bars, karaoke parlours, discotheques, game and internet service outlets and local residents have been told to avoid non-essential gatherings from February 1.
Schools for more than 2 million students from kindergartens to high school were shut starting from February 1.
VNS

Vietnam has ordered 30 million doses of vaccine from the UK, with first doses are expected to arrive in the country in the first quarter this year to serve widespread vaccination.

A ceremony was held at the Hanoi Medical University on January 21 to kick-start clinical trials of COVIVAC, Vietnam's second COVID-19 vaccine candidate and developed based on the new highly-infectious coronavirus variants.