Believing that the market coupon model first applied in Tay Ho ensures social distancing, Hanoi Party Committee Secretary Dinh Tien Dung said the model should be used in all districts.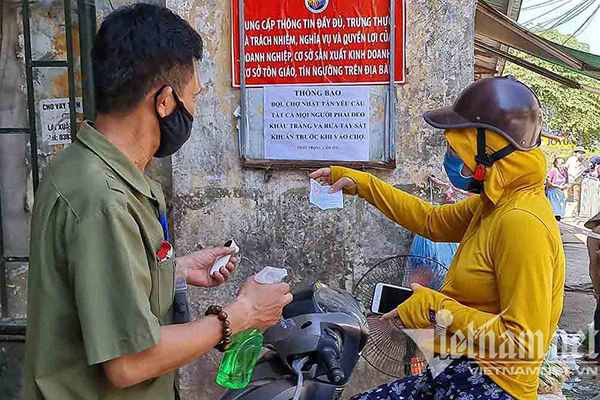 Market coupons have been handed out to people in Tay Ho district
Dung at a meeting on July 27 said the Peoples' Committee's Directive 17 is a timely decision applauded by the public.
The inspection after four days of social distancing found that it has been done very well in some areas, but not well in others where leaders did not keep a close eye on the situation.
Many agencies and organizations have not strictly observed the requirements, so the number of people going to offices is still high.
"If the problems continue, they will adversely affect the pandemic fight of the entire city and the 'golden period' of the 15-day social distancing will be wasted," Dung said.
He asked inspection groups of the Standing Committee of the City Party Committee to regularly examine the implementation of the directive in localities so as to timely fix the problems and discipline the heads of localities where violations are found.
He emphasized that the results of the implementation of this task is the measurement of the prestige, capability and responsibility of Party Committees and government at different levels, especially the leaders.
He asked to increase the frequency of inspection to ensure social distancing throughout the 15 days as planned.
"More than ever before, key officials of the city, especially Party Committee Secretaries and Chairmen of People's Committees at all levels, must be deeply aware that fighting Covid-19 is the top priority mission and responsibility to protect the safety of people, and to protect the peaceful life of the capital city and the country," Dung said.
Dung asked the Party Civil Affairs Committee to require the city police to coordinate with Party Committees and local authorities to arrange enough checkpoints, especially in bordering areas to ensure distancing: residential quarters must be isolated from other residential quarters; villages from villages; communes and wards from the others; districts from districts; and cities from provinces.
Local authorities need to work with every agency and business in the city and tell them to strictly observe the regulations on social distancing and the number of workers at offices.
Praising the shopping coupons being applied in Tay Ho district, Dung said the same model should be used in other districts as well and told the industry and trade department to design a coupon for the entire city. 
Huong Quynh

How to organize social distancing while still ensuring uninterrupted production and goods circulation is uppermost in agencies' thoughts.

Postmart and Vo So e-commerce sites have been assigned to place farm produce on sale, thus promoting the digital economy in agriculture and rural development.