Within one kilometre from Thang Long Tobacco Factory to Co.op Mart on Hanoi's Nguyen Trai Street, seven universities are located.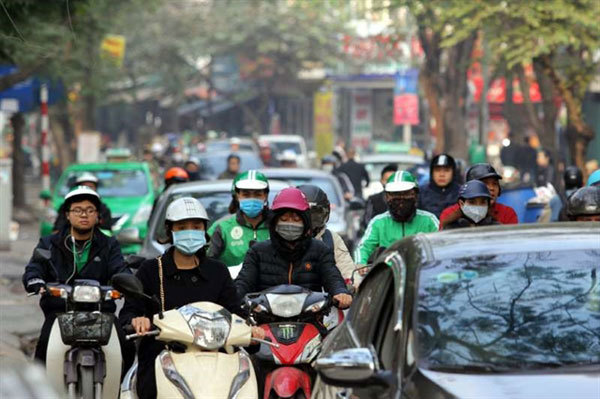 Chua Lang Street where three universities are located is one of the most severe black spots of congestion in Hanoi. — Photo vtc.vn
With some 10,000 students at each school, despite being one of the city's largest streets, it is still congested during peak hours every day.
The situation is the same around other university hubs in the city, from Xuan Thuy Street to Cau Giay Street with Viet Nam National University and Academy of Journalism and Communications; from Tay Son Street to Chua Boc Street with Thuy Loi University, Trade Union University and Banking Academy; Giai Phong Street with National Economics University, National University of Civil Engineering and Ha Noi University of Science and Technology; and Chua Lang Street with Foreign Trade University, Diplomatic Academy and Viet Nam Youth Academy.
As the number of students from other provinces flocking into Hanoi increases, the city's traffic system faces a huge burden.
Captain Dinh Tien Vu from Ha Noi Traffic Police told Kinh tế & Đô Thị (Economic and Urban Affairs) newspaper that the sharp rise of vehicles and students was the main cause of congestion on the streets. The situation only improves during summer.
In 2007, a plan was approved to move university and college networks between 2006 and 2016 in which small-sized public universities (under 2ha) would move out to the suburbs to have bigger campuses of at least 10ha.
After Hanoi's administrative boundaries were expanded in 2009, there was another plan on developing university and college systems.
One of the plan's goals is to "solve difficulties involving space and facilities of Hanoi's universities and colleges and their negative impacts on the city's development".
Therefore, it is set to reduce the density of students and schools in the inner city.
From 2010 to 2011, the Ha Noi Department of Planning and Architecture and Ministry of Construction composed plans to move and upgrade 23 higher education institutes.
Twelve schools planned to remove, including Ha Noi Law University, Foreign Trade University and Ha Noi Open University.
The schools were to be relocated in satellite areas of Gia Lam (250ha), Soc Son (600ha), Son Tay (300ha), Hoa Lac (1,200ha) and Phu Xuyen (100ha), creating hubs of up to 4,500ha for each which can serve from 40,000 to 51,000 students.
The Hanoi Capital construction master plan, approved in 2011, expects to restrain the number of university students in the metropolitan area at some 30,000.
However, after a decade, only the University of Public Health has moved out to Bac Tu Liem District.
Viet Nam National University, despite being granted a 1,000ha area in Hoa Lac Hi-teck Park, has not followed the plan.
The university's vice rector Nguyen Hoang Hai could not confirm when the project would be completed due to difficulties in allocating investment.
For the past 15 years, the project has received less than 8 per cent of the initial estimated capital of VND25.8 trillion (US$1.1 billion).
The situation is thought to be similar with the other institutions.
According to Dao Ngoc Nghiem, deputy head of Ha Noi Association of Urban Planning and Development, universities have raised student enrollment despite not moving to outlying areas, increasing pressure on the city's traffic infrastructure.
In addition, while Hanoi is overloaded with universities and colleges, the Government has not created favourable conditions to develop higher education institutes in other nearby provinces.
To solve the problem, besides changes in policies, the expert highlighted the need for private sector participation in mobilising resources to build infrastructure and attract students.
VNS