In recent years, Hanoi authorities have focused on forming many new residential areas and expanding transport infrastructure to meet the rapid speed of urbanisation and population growth.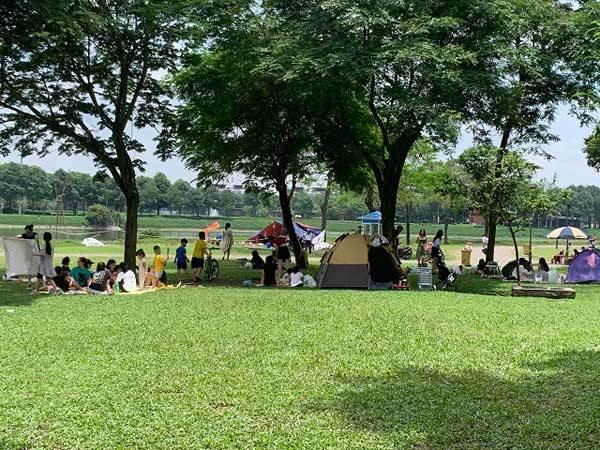 Yen So Park in Hoang Mai District has become popular for camping in recent years. Photo ktdtt.vn
However, green and public spaces have lacked adequate investment, according to Kinh Tế & Đô Thị (Economy & City) newspaper.
The city is entering the peak of the stifling summer when people most want fresh air in public spaces and parks but unfortunately, the city has asked people not to gather in public areas due to the new COVID-19 outbreak.
However, on weekends or in the evening areas such as West Lake, Yen So Park or Linh Dam Lake are still packed with people coming to relax, play and exercise, leaving their residential areas.
This situation partly shows that urbanites are increasingly confined to densely built-up areas and face a serious lack of public and green spaces for entertainment and relaxation in their residential areas.
After Hanoi expanded its administrative boundaries, many new urban areas with hundreds of high-rise buildings were built quickly.
In these modern urban areas, people not only face overcrowding and congestion due to a lack of roads but also suffer from a lack of space for community activities.
Linh Dam New Residential Area in Hoang Mai District is one example.
"My family moved to Linh Dam New Residential Area in 2015. The area has a total of 16 high-rise apartment buildings and 600 villas with more than 10,000 residents but so far there are no community rooms in each building and there is a lack of parks, flower gardens and children's play areas, so all people have to go to Linh Dam Lake Park to relax and exercise," said Tran Duc Mau, a resident in T5 building.
The inner-city area, which is densely populated, is in the same situation. The land used for public green space just accounts for less than 2 per cent of the total land fund.
Meanwhile, some large public parks such as Thu Le in Cau Giay District, Thong Nhat and Tuoi Tre in Hai Ba Trung District and Indira Gandhi in Ba Dinh District have suffered from a lack of investment, regular maintenance and repairs, so they have gradually deteriorated and become less attractive.
According to architect Dinh Dang Hai, an expert from Canada's HealthBridge Foundation in Vietnam, the area of ​​public space in Hanoi is very limited at 3sq.m per person.
In Hoan Kiem District – one of the central districts of the city - there are only 13 flower gardens and the public area per capita is just 0.1 sq.m, Hai said
"In particular, in the core Old Quarter areas, the public space is even more limited. For example, nearly 70,000 people living in Cua Dong Ward of Hoan Kiem District have only Duong Thanh flower garden," the architect said.
"Hanoi is still far behind meeting the standards of public space compared to other cities in the world," he said. 
Where there's a will, there's a way
According to Assoc. Prof. Dr Pham Quynh Phuong of the Institute for Cultural Studies, Hanoi's public spaces have shrunk due to rapid urbanisation. Many new urban areas were formed while land for public purposes was ignored.
In addition, public spaces were being commercialised and privatised. The sidewalk areas were occupied by business households because the distinction between public and private is unclear and many public spaces were used for parking or the expansion of transport infrastructure, Phuong said.
City authorities have paid certain attention to public spaces such as expanding green areas, public parks and organising walking streets but these efforts have not met the needs of the people, she said.
"Reclaiming public spaces and operating them well in the city requires community participation because the government can't take care of it all," the expert said.
"There needs to be a link between urban managers and businesses to create more public spaces for people," she said.
Architect Tran Huy Anh from the Hanoi Architects' Association said that the capital city was in a stage of development in terms of quality, not quantity like before.
"Therefore, there is no reason that we should not pay more attention to the development of public spaces to prove that we are not the richest city but do the most for the people," Anh said.
Anh said that when there was determination, the city would find a way to create enough and satisfactory public spaces.
He said that in the past five years, a district with a narrow area like Hoan Kiem has created 13 public spaces, including the walking streets around Hoan Kiem Lake, Phung Hung art street and public space along the Red River in Phuc Tan Ward.
Notably, under programme No.03-CTr/TU of the Hanoi Party Committee on urban embellishment and economic development in 2021 - 2025, one of 19 targets identified was to renovate and upgrade 45 existing parks and flower gardens and invest in building five new ones. ­
VNS

Urban development in the 1960s and 1970s in Singapore and Seoul could be valuable lessons for Hanoi to map out its sustainable development.

In the context of the lack of public space, Hanoi should prioritize the land left by relocated factories for use as public space.