The People's Committee of HCM City has approved the adjustment of the city's Northwestern Urban Area plan proposed by the city's Department of Urban Planning and Architecture.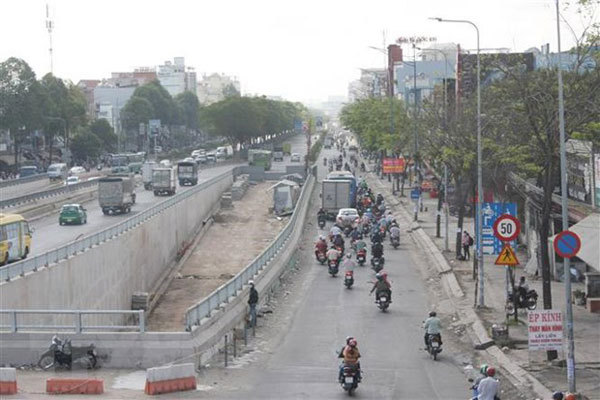 A section of National Highway No 22 in HCM City's Hoc Mon District. — VNS File Photo
The area to be adjusted covers over 6,000ha, including Tan Thoi Nhi Commune in Hoc Mon District, the communes of Tan An Hoi, Phuoc Hiep, Tan Phu Trung and Tan Thong Hoi and Cu Chi Town in Cu Chi District, the Tay Bac Solid Waste Treatment Complex, and An Ha and Thay Cai canals.
The adjustment plan calls for the use of greenery on the uncultivated land and construction of sports grounds on the uncultivated land for residential areas, and the use of greenery and water surfaces to create spacious recreational areas for residents.
Vice Chairman of HCM City People's Committee Vo Van Hoan instructed relevant agencies to consider the opinions of Cu Chi residents and the Cu Chi District People's Committee when making adjustments of the existing residential areas in the region.
New residential areas will be located along main road axis.
Infrastructure will be fully developed for new residential areas, creating favourable conditions for sustainable development of new urban areas and making them attractive to investors.
High-rises in new residential areas will be located along the road axes, including the National Highway No 22 and the road along Metro Line No 2 (which links Ben Thanh Market in District 1 with Tham Luong Bus Terminal in District 12 and Cu Chi District).
Buildings for commercial and service centres will be located in the centre of the urban area near Metro Line No 2 stations.
The Northwestern Urban Area will be a centre for trade, health, cultural, education, sport and entertainment services and is expected to have a population of some 300,000 residents by 2025.
An industrial park will be built in the city's Northeastern Urban Area for "clean" industries that use high technologies and advanced engineering.
The existing Tan Phu Trung Industrial Park will use high technologies and advanced engineering. — VNS

The HCM City Department of Planning and Architecture, after collecting feedback from local authorities, plans to ask the city People's Committee to approve the zoning plan for the HCM City Northwestern Urban Area.

HCM City authorities have approved several major housing and urban projects spread over hundreds of hectares in both inner and suburban districts.