Testing for Covid-19 for people in orange (high risk) and red (very high risk) zones in HCM City was completed on August 27.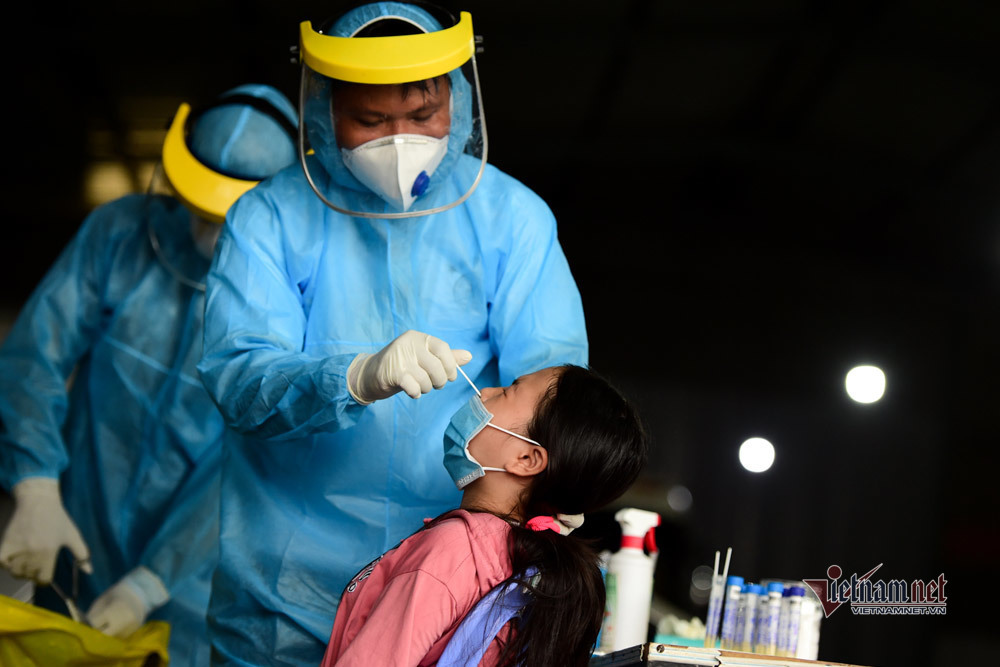 Ho Chi Minh City is speeding up covid testing for local people. Photo: Truong Thanh Tung
For green, near-green and yellow areas (free and nearly-free Covid-19 areas), the testing rates were 35%, 19% and 37% completed, respectively, according to a press conference on Covid-19 prevention and control in HCM City yesterday.
In order to achieve the planned goals and implement the direction of the Minister of Health, the HCM City Steering Committee for Covid-19 Prevention and Control asked localities and agencies to accelerate Covid-19 testing to complete the first test for Covid-19 by August 30 for green, near-green and yellow areas and by September 1 for the second test in the orange and red zones.
The total number of Covid-19 cases as of 6am on August 29 was 205,466, according to the Ministry of Health, including 205,023 cases of infection with sources in the community. As many as 40,259 patients are under treatment, including 2,415 children under 16 years old, 2,736 critically ill patients who need ventilators, and 15 patients who need ECMO intervention. On August 28, 2,246 patients were discharged from the hospital, raising the total number of discharged patients since January 1 to 104,844.
By August 28, HCM City had administered 5,865,276 of vaccine doses, with 5,577,285 people getting the first dose and 287,991 two doses. The number of vaccinated people over 65 years old and those with underlying diseases totals 632,073.
From August 23 to 29, nearly 6,300 people were fined for breaking the rules on social distancing, with a total amount of VND8.9 billion.
During this time, the number of newly detected infection cases increased, with an average of 4,740 cases of positive cases per day.
As of August 29, the city had welcomed 4,666 medical staff from hospitals managed by the Ministry of Health; 786 officers and soldiers of the Ministry of Public Security; and 11,177 soldiers and doctors from the Ministry of National Defense and military zones who came to help the city to help the fight against the epidemic.
Regarding antiviral drugs, the city has been distributing three bags of medicine to Covid-19 patients. Bag A includes antipyretic and vitamin; bag B includes anti-inflammatory and anticoagulant drugs; and bag C has Molnupiravir.
Ho Van

Prime Minister Pham Minh Chinh has directed local authorities to perform rapid testing on a large scale. HCM City will conduct Covid-19 test for the entire population during the social distancing period to detect F0 cases as soon as possible.