Doctors at Binh Dan Hospital in HCM City are providing free screening for and counselling on colorectal cancer for 1,000 people to improve public awareness.
Vietnam uses robot surgery for first time on kidney cancer patient
Generosity warms cancer patients' hearts
Immunotherapy for cancer patients piloted in Vietnam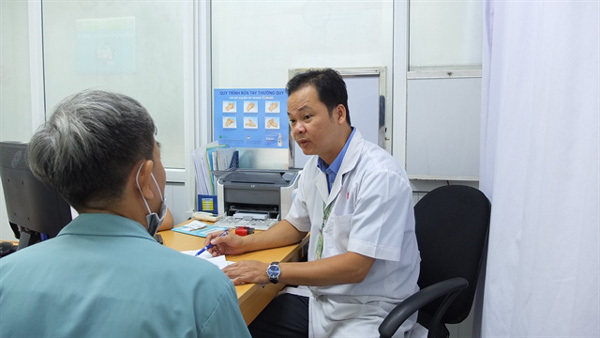 A doctor in Binh Dan Hospital in HCM City provides counselling on diseases related to the digestive system. Photo Courtesy of the hospital
The programme began yesterday (May 28) and will continue until 1,000 people are screened.
People aged more than 40 wanting to join the programme can call 19007123 for registration.
The programme targets people at high risk, such as those who have already got colorectal cancer and could suffer a relapse and polyps, which are small, benign clumps of cells inside the colon.
According to the 2018 GLOBOCAN database published by International Agency for Research on Cancer, colorectal cancer is the fifth highest cause of mortality in the world.
It is a similar case in Vietnam, and moreover, the country is seeing an increase in the number of young people with the disease.
Last year 14,733 new cases of colorectal cancer were recorded in the country.
If the cancer is detected early, the chances of curing and recovery are 90 per cent, according to the hospital.
Patients with the cancer might have no symptoms or mistake them for problems related to the digestive system such as digestive disorders.
There could be rectal bleeding or blood in the stool, persistent abdominal discomfort due to cramps, gas or pain, and a feeling the bowel does not empty completely.
Dr Tran Vinh Hung, the director of the hospital, said screening for the cancer is very important. People, especially those with a high risk, should take the initiative to get screened.
VNS