Doctors at Thong Nhat Hospital in HCM City are applying a new shockwave therapy technique to treat patients with ischemic heart disease.
Stents for cardiovascular intervention now made in Vietnam
Improved healthcare services attract more foreign patients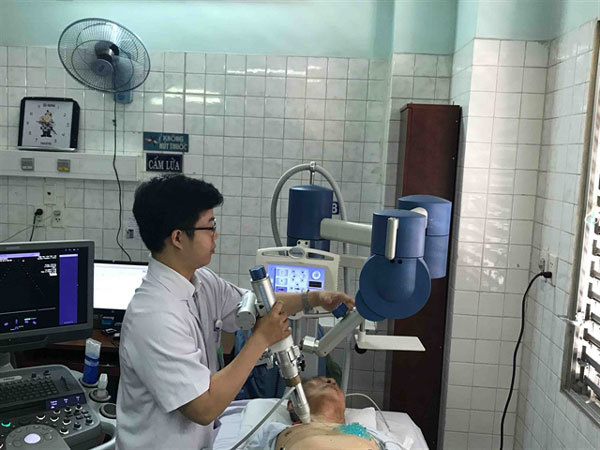 A heart patient is treated with shockwave therapy at Thong Nhat Hospital. VNS/Photo.Gia Loc
Ischemic heart disease is the leading cause of death and a major cause of hospitalisation, with an increasing number of affected patients worldwide.
Mai Duc Chinh of HCM City, who was diagnosed with heart failure caused by heart attacks that had been treated too late in 2012, has been treated with the technique.
Stents were used to open clogged arteries in his heart in the past, but he still had difficulties breathing. He also suffers from diabetes and hypertension.
One month ago, he was told about the shockwave therapy. "After the first treatment, I could walk up from the ground floor to the fourth floor without being tired or breathing hard," said Chinh, who received his second treatment on Tuesday, July 16.
Dr Le Quoc Hung of the hospital's cardiology department said the three major therapeutic options for treating ischemic heart disease include medication, stent placement, and coronary artery bypass grafting.
"Many patients with the disease do not improve although they had stent placement or coronary artery bypass grafting," Hung said.
Patients who are not candidates for stent placement or coronary artery bypass grafting can receive shockwave therapy, he added.
The therapy is an alternative non-invasive option for these patients, he said, adding that it helps to reduce symptoms and medication. The treatment course lasts three months.
In the southern region, Thong Nhat Hospital is the first to apply the therapy. In Hanoi, the108 Military Central Hospital in Hanoi uses it.
A study of 20 patients with the disease conducted by the 108 Military Central Hospital showed that 75 per cent said pain in their chest reduced after a three-month treatment course.
Another study by the Department of Cardiovascular Medicine at Tohoku University Graduate School of Medicine in Japan, said that extra-corporeal cardiac shockwave therapy improved symptoms, exercise capacity, and myocardial perfusion in patients with severe coronary artery disease. Importantly, no procedural complications or adverse effects were noted.
According to the World Health Organisation, cardiovascular disease (CVD) is responsible for 10 per cent of disability-adjusted life years lost in low- and middle-income countries, and 18 per cent in high-income countries.
In Vietnam, the number of deaths caused by CVD accounts for 33 per cent of all deaths. Nearly 200,000 people die of it every year.
VNS