The lack of teachers for students with disabilities in HCM City is posing concerns to educational experts.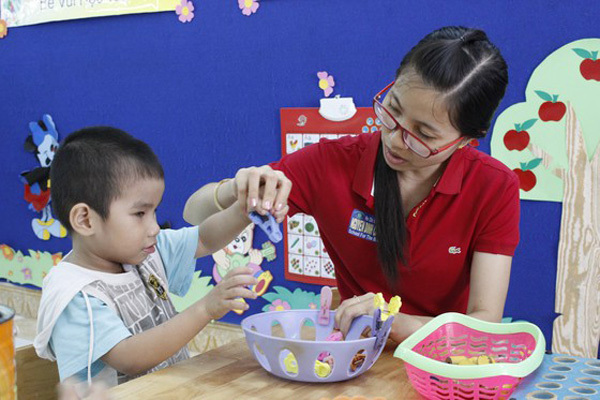 HCM City does not have an adequate number of teachers for students with disabilities. Photo courtesy of sggp.org.vn
According to a report by deputy head of the Primary Education Department Nguyen Minh Thien Hoang at a recent conference on special education, the city has 21 special schools, 12 inclusive centres that help students with severe disabilities and 725 public schools that take in disabled children.
The quality of education for disabled students has been gradually improving, but authorities said the assessment of the degree of disability of special students was not done using a common method by all districts.
The lack of quality human resources posed another challenge, they admitted.
The fact that teachers and staffs at special schools constantly changing their workplace or simply quit maked it difficult to ensure teaching quality, an official from the city Department of Education and Training said.
The increasing number of special students was putting pressure on schools in terms of infrastructure and teaching equipment, he said.
Importantly, a proposal to reduce the total number of students in a class with disabled students had not been carried out, affecting the quality of teaching.
Some localities had yet to draft plans to build special education facilities for children with disabilities while many special schools were hesitant to accept students with other health problems.
To improve the quality of teaching for students with disabilities, the Department of Education and Training wants the Ministry of Education and Training to introduce vocational education programmes for students with disabilities at various levels.
Life skills and sex education should be taught as well, the department said, adding that higher allowances should be considered for non-teaching staffs at specialised schools and inclusive centres.
VNS