The chairman of the HCM City People's Committee has said it will be hard to meet revenue targets unless the legal problems faced by the construction industry are settled quickly.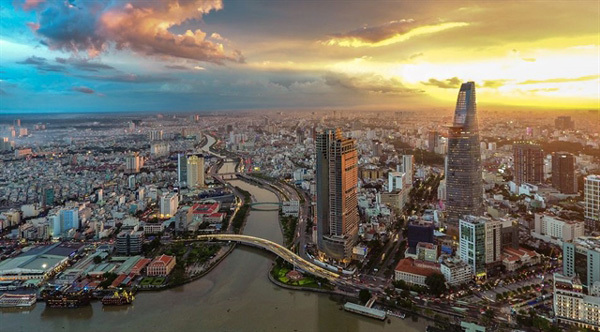 A view of the HCM City skyline. The city's revenue collection in the first 11 months has been impressive despite challenges. — Photo tripsavvy.com
Speaking at a meeting with the Ministry of Finance on Tuesday in the city, chairman Nguyen Thanh Phong said this year the city targets economic growth of 8.5 per cent, with the services sector accounting for more than 60 per cent of the US$60 billion economy.
The construction industry, which has a great influence on the budget revenues, achieved only 1.04 per cent growth this year, he said.
The biggest difficulty facing the industry today is the postponement of a great number of housing projects, and this would have a big impact on budget revenues, he said.
The Government Inspectorate has said 124 projects have stalled due to problems related to legal procedures, he said.
The real estate market has been in a slump for the last two years, with property transactions significantly declining, he said.
Many housing projects have been delayed for a very long time because investment procedures have not been completed, he said.
Tran Vinh Tuyen, vice chairman of the People's Committee, said the construction sector would achieve a very low growth rate this year compared to an average of 7.5 per cent in previous years.
"Real estate stagnation has a severe impact on a number of related industries such as steel, furniture and building materials."

In the past nine months, construction contracts signed by companies are down by 30-50 per cent, and building materials and equipment companies have also seen revenues fall, he said.
Vo Van Hoan, another People's Committee vice chairman, recently chaired a Department of Construction meeting held to seek solutions for the tardy construction licensing, but none have been found so far.
Minister of Finance Dinh Tien Dung said the city's revenues were very buoyant in the first 11 months despite the challenges and instability of the global economy.
The difficulties are expected to continue next year, he said.
Dung urged the city leaders to continue working with agencies like tax and customs to ensure revenue collections are steady.
Phong said the city is the nation's economic locomotive.
It is among the 20 per cent of localities that can meet their own expenditure and also contribute to the national coffers, he said.
For decades now, it has been the country's largest revenue earner. This year, its revenues are expected to top VNĐ412 trillion, or 27 per cent of the country's total figure.
According to Le Ngoc Thuy Trang, deputy director of the city Department of Finance, the city's revenues topped VND361.41 trillion in the first 11 months of the year, up 8.7 per cent year-on-year.
They are expected to exceed the full-year target, rising to VND412.474 trillion, she said.
Last year, they were worth over VND378.54 trillion, 8.65 per cent up from 2017. — VNS

Ho Chi Minh City's Real Estate Association (HOREA) has pointed out the problematic reality of Vietnam's current real estate market and proposed changes for several regulations to improve the situation.   

In efforts to embrace the fourth industrial revolution, Vietnam's cities and provinces are pushing smart city programmes, combining technology with internet-connected devices to enhance municipal management and economy.