The HCM City People's Committee has announced plans to reorganise districts, communes and wards by 2021.
 HCM City to rearrange district, commune admin units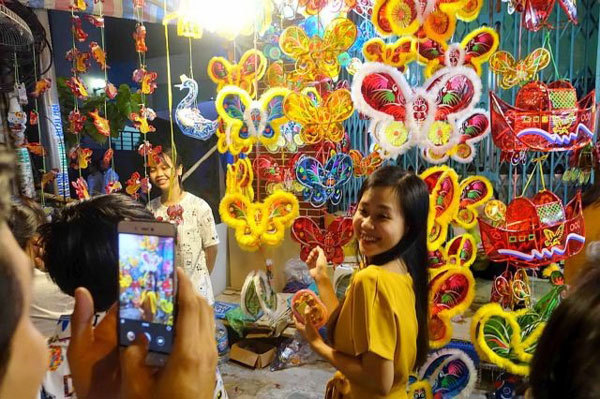 Luong Nhu Hoc, also called Lantern Street, in HCM City's District 5, is in one of the wards to be merged with another as part of the city's rationalising of administrative units. — VNS File Photo
It is aimed to rationalising the city's administrative units to better serve the city's socio-economic development and improve the quality of government workers, the Chairman of the People's Committee, Nguyen Thanh Phong, said.
The task will take three years. The reorganisation will be completed this year, followed by the appointment of leaders and other authorities of the newly-established administrative units next year.
In 2021, the city will organise elections to the People's Council for the 2021-26 term from the newly created administrative units.
Do Van Dao, deputy director of the Department of Internal Affairs, said administrative units which do not meet the standards set by the NA Standing Committee -- a standard ward or commune must be at least 5.5sq.km and have a population of over 15,000 people -- would be merged with others.
The city currently has 322 wards and communes in its 24 districts, and 15 wards do not meet the NA standards and have to be merged with others.
Three of them are in District 2, two each in districts 3, 4, 5, 10, and Phu Nhuan, and one each in districts 6 and 8.
No administrative unit at the district level needs to be restructured in the first stage, Dao said.
Truong Hoai Phong, head of the District 10 People's Committee's Division of Interior, said retaining officials and employees from wards that would be merged with others is the biggest challenge facing authorities since mergers would inevitably leave many workers redundant.
"However, it would help improve District 10's administrative work."
The district's ward 3 and 6 are among those to be merged.
Phong said Ward 3 has an area of 10.17ha and a population of about 7,200 while Ward 6 is 10.26ha and has more than 7,500 people. Plans for their merger have been sent to the city Department of Home Affairs, he said.
Besides wards 6 and 7 will also be merged, reducing the number of wards in the district from 15 to 13.
Nguyen Minh Thien, chairman of District 3's Ward 13, which is to be merged with another, said district authorities are keeping ward-level agencies informed about the progress.
VNS