HCM City authorities plan to restrict the number of old vehicles that cause pollution.
According to figures from the city's statistics bureau, as of mid-2019 the city had more than 9 million vehicles including 8.1 million motorbikes.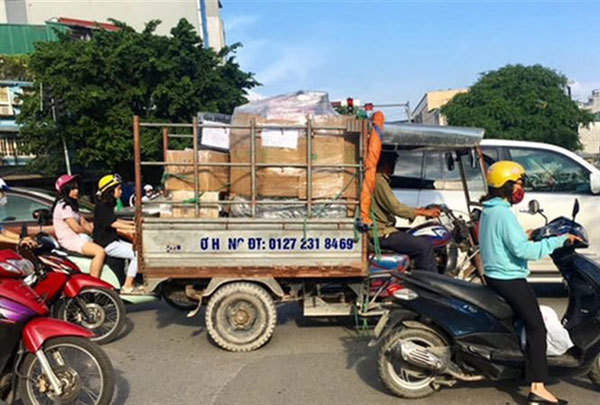 A motorbike modified into a three-wheeled vehicle transports goods on a street in HCM City. 
The programme will be undertaken in three stages: 2019–20, 2021 25 and 2026–30.
It includes a number of measures to control exhaust emissions from cars and motorbikes, restrict the number of aged vehicles and reduce the use of private vehicles and increase the use of public transport.
Measures to reduce private vehicles include levying a fee on cars entering inner districts.
Restrictions on cars and motorbikes will follow a road map, starting with districts 1,3,5, and 10, Thu Thiem New Urban Area in District 2 and Phu My Hung in District 7, and then expanding to surrounding areas.
Motorbikes abandoned at police stations
The parking lot at the District 5 police station has 500 motorbikes, 80 per cent of them old and battered.
A spokesperson for the city Department of Transport said traffic violators prefer to leave their vehicles at police stations instead of paying fines and collecting them.
Ho Nguyen, a resident of Tan Binh District, said such old motorbikes should be banned.
Nguyet Anh of District 3 said these vehicles not only cause environmental problems but also pose a threat to road users.
"People's health and safety should always be the number one priority". — VNS

The HCM City Department of Transport has asked the city's People's Committee to outline plans for investment in public transport in new residential areas, including new bus lanes, in an aim to reduce traffic congestion.