The Standing Board of the HCM City Party Committee on Sunday (August 15) asked authorities of Thu Duc City and all districts to quickly provide support, including cash and free food, to needy people affected by the Covid-19 pandemic.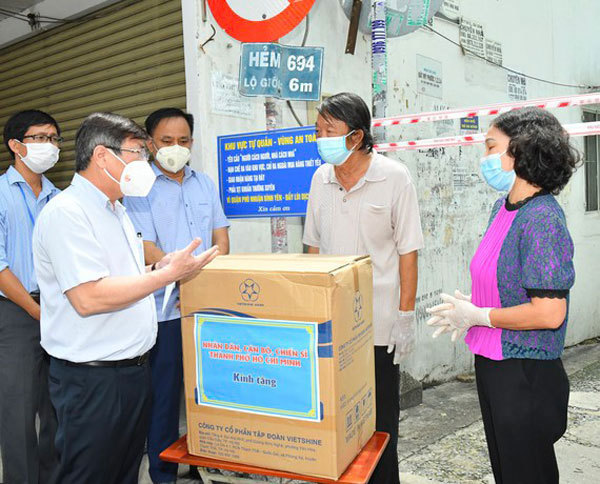 HCM City People Committee Chairman Nguyen Thanh Phong (left) hands over gifts to residents affected by the Covid-19 pandemic in Phu Nhuan District. — Photo www.sggp.org.vn
The city, the COVID-19 epicentre of the country, went into lockdown under the Prime Minister's Directive No.16 starting July 9 and has extended its strict social distancing measures until mid-September.
With the spirit "no one will be left behind", the city will help people facing difficult circumstances living in the city cover their room rental fees, food and necessities.
The city said it would help the poor, students and migrant workers who have to stay in the city during the lockdown period.
The city urged migrant workers not to leave the city to return to their hometowns, and to comply with the city's pandemic prevention and control measures.
The Standing Board of the city Party Committee also urged all local authorities to speed up city-wide Covid-19 vaccinations.
During an online conference on Sunday hosted by Prime Minister Pham Minh Chinh, the municipal People's Committee Chairman Nguyen Thanh Phong said the city was making more effort to ensure an uninterrupted supply of foods and essential goods to meet residents' demand.
The city has piloted the opening of centres to receive and provide essential goods for local residents in districts 5, 7 and 12.
It is also opening more centres, support groups and relief teams to support people in need.
It has mobilised all resources available from the State budget and social resources for the fight against the pandemic.
Earlier, the Government asked HCM City to control the outbreak by September 15.  
HCM City asks migrant workers not to leave the city, promises support
After HCM City announced its plan to extend the lockdown until September 15, hundreds of migrant workers packed their bags to return to their hometowns.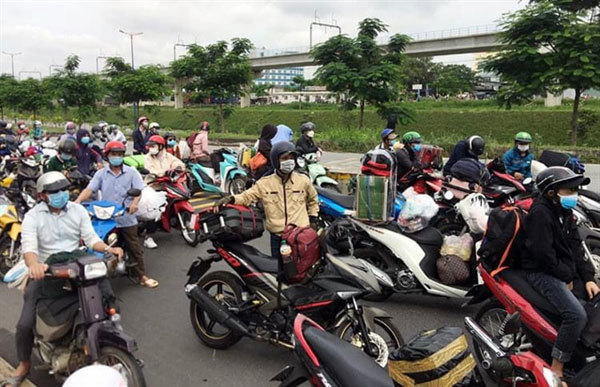 People returning to their hometowns are asked to go back to their residences in HCM City and comply with Covid-19 travel restrictions. — VNA/VNS Photo
Hundreds of motorbikes were stopped at checkpoints at city entrances.
Police, militia, and medical staff were able to convince most of them to return to their residence and told them that the city promised to support them if they faced difficulties due to the COVID-19 outbreak.
Tran Huu Phuoc, chairman of the Fatherland Front of Thu Duc City, said that yesterday the city recorded more than 500 people returning home by motorbike, most of them in Thu Duc and neighbouring districts. 
After being stopped at a checkpoint near Suoi Tien Park at Hanoi Highway, most of them returned to their homes.
According to Phuoc, localities in Thu Duc City have provided support packages including food, medicine and necessary items to help the poor. 
Tran Viet Bao, who wanted to return to Hue City, told Tuổi Trẻ (Youth) newspaper that he had been out of work for three months and owed his landlord two months' rent.
On the same day, nearly 300 people returning home by motorbike were stopped at a checkpoint at National Highway 1 in districts 12 and Binh Tan.
The police at checkpoints asked people to turn back to their current places of residence and comply with COVID-19 travel restrictions.
The police asked the local government to provide 5kg of rice and 5 packages of noodles for each person.
Le Van Thinh, secretary of Binh Tan District Party Committee, said the locality would ask landlords to exempt or reduce rent.
The district authority also promised to support those in need during the quarantine period.
Leaders of the city said they were putting the health and life of the people first and foremost.
Source: Vietnam News

HCM City is determined to control the Covid-19 epidemic in the districts of Can Gio, Nha Be, Cu Chi, Phu Nhuan, District 5, District 7 and District 11 by August 31, said Chairman of HCM City People's Committee Nguyen Thanh Phong.

On Sunday, as HCM City announced its plan to extend strict lockdown for another month until September 15, hundreds of migrant workers have packed their bags and personal belongings and rushed to the city's gateways