Nguyen Van Dang, 61, of HCM City is getting treatment for nicotine dependence after dozens of years of smoking that led to serious health complications.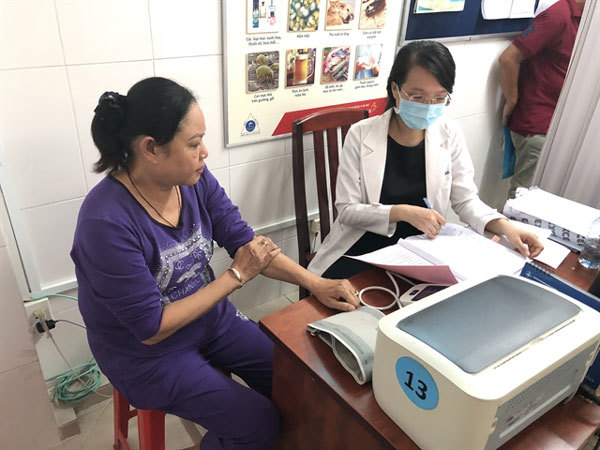 A patient receives examination and treatment for tobacco dependence at District 11 Hospital in HCM City. — VNS Photo Thu Hang
The pack-a-day smoker began smoking at age 16 but tried vainly to stop many times.
Doctors advised him to quit smoking five year ago when they found he had asthma.
"I tried to quit smoking many times without any medical help, but they were unsuccessful attempts."
He has recently developed chronic obstructive pulmonary disease (COPD), one of three major tobacco-related diseases besides lung cancer and ischaemic heart diseases.
Now he has no choice but take counselling and treatment for addiction at Nhan Dan Gia Dinh Hospital in HCM City.
Dr Nguyen Huu Hoang of the hospital's respiratory department said smoking causes physical and psychological dependence on nicotine and is treated as a disease.
"Tobacco dependence is not just a habit. It is a disease that requires appropriate treatment."
There are many treatment options for tobacco dependence, including medication and counselling, both of which have proven effective, he said.
The most important factor in successfully quitting is having the motivation to quit, he added.
Many smokers say they know there is a risk of disease but still smoke frequently and find it very difficult to quit.
Phung Thanh Hoa of HCM City's District 11 said she knew about the harm caused by smoking and tried to quit several times but relapsed each time.
She is getting one month's smoking cessation counselling and treatment at District 11 Hospital.
"This time, I am determined to quit smoking."
Smoking cessation counselling
Since 2014, the city Department of Health in collaboration with Viet Nam Tobacco Control Fund (VNTCF) has set up counselling rooms at several hospitals in the city in an effort to reduce the smoking rate.
They include Pham Ngoc Thach Hospital, Nhan Dan Gia Dinh Hospital, Nguyen Tri Phuong Hospital, Hoc Mon General Hospital, the Institution for Traditional Medicine, Thu Duc District Hospital, Binh Chanh District Hospital, District 11 Hospital, District 1 Hospital, and Trieu An Hospital.
Nhan Dan Gia Dinh Hospital, which set up the first counselling room and a telephone line for smoking cessation, received nearly 200 patients last year.
But doctors at the hospital admitted that the number of people seeking medical advice and treatment for smoking was small compared to the current smoking rate.
Almost 45.3 per cent of male adults smoke cigarettes in Vietnam, according to the latest statistics from the VNTCF.
In Vietnam, 40,000 people die each year of tobacco-related diseases such as stroke and coronary artery disease, more than those dying from HIV, TB and malaria combined, according to the World Health Organisation.
Vo Thi Ri, deputy director of the District 11 Hospital, said the hospital received more than 30 people registered for counselling and treatment for tobacco dependence this year.
"Doctors at the hospital's respiratory diseases department will offer smoking cessation counselling and treatment for patients with respiratory illnesses such as asthma and COPD."
The cost of treatment and medication for tobacco dependence is not covered by health insurance, which is a major hurdle, she said.
"Since tobacco dependence is treated as a disease, treatment ... needs to be covered by health insurance. It will help increase smokers' access to treatment for tobacco dependence."
Vietnam is among the countries in the Western Pacific Region to have ratified the WHO Framework Convention on Tobacco Control.
In 2013, the National Strategy on Tobacco Control was launched with the aim of reducing the smoking rate among people aged 15-24 from 26 per cent in 2011 to 18 per cent in 2020, and among adult males from 47.4 per cent in 2011 to 39 per cent in 2020.
Though the Tobacco Control Law, passed in 2013, specifically prohibits smoking in public indoor places and workplaces, enforcement of the law is still poor.
This leaves millions of people vulnerable to second-hand smoke, health experts said.
In Vietnam, cigarette smoking is linked to 90 per cent of lung cancer deaths and 75 per cent of COPD cases, according to statistics released by the Ministry of Health.
VNS