The HCM City Department of Natural Resources and Environment has warned about pollution in the Sai Gon and Dong Nai rivers and said the city water supply utilities should ensure the water it supplies residents is safe.
HCM City: Measures taken to protect the environment
Experts call for better water resources management to cope with climate change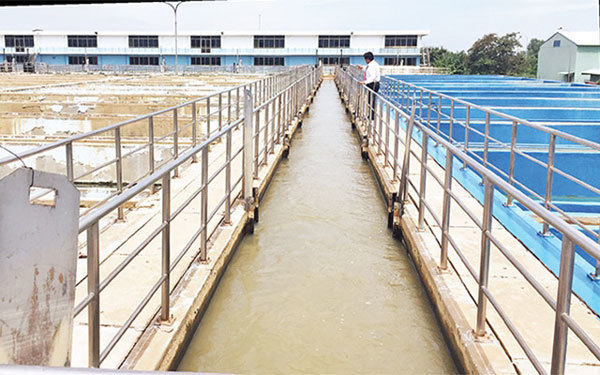 Thu Duc Water Supply Plant in HCM City's Hoc Mon District. — VNS File Photo
A recent study by the department found the upper section of the Sai Gon River, from Binh Phuoc Province and up, to be of A Standard and from Binh Phuoc and down to be B Standard.
Tests of the river's water from Hoa An in Dong Nai Province to Cat Lai in HCM City's District 2 found microbial pollution and petrol in it.
According to the Sai Gon Water Supply Co. (Sawaco), it sources water mainly from the Sai Gon and Dong Nai basins (94 per cent) and only a small proportion (6 per cent) comes from groundwater.
Despite the efforts taken to protect and manage water resources, the quality of water in the two rivers has deteriorated, with the rates of ammonia, micro-organisms and others in the Sai Gon River increasing.
Sawaco has also called on relevant agencies in cities and provinces along the Dong Nai River to collaborate to protect its water.
Dr Vo Le Phu, head of the HCM City Polytechnic University's environment and natural resources department, said the quality of water in the Sai Gon River, the major source of water supply to HCM City, has degraded due to the rapid urban development.
Every day 700,000-900,000 cubic metres of wastewater is discharged into the environment in the city, he said.
A 2015 study found that the Sai Gon River was being polluted by pharmaceutical, healthcare and plastic products, he said.
City authorities should adopt stricter regulations and measures for water resource management to prevent the deterioration of the water sources, including better control of wastewater discharged by industries, he added.
Deputy chief of Sawaco, Bui Thanh Quang, said last month 2.4 million cubic metres of water were supplied to the city daily, and the water quality is closely monitored and controlled based on the Ministry of Health guidelines.
Sawaco has also tied up with foreign institutes, universities and water utilities to conduct research into water-treatment technologies.
Faced with the increased pollution and seawater encroachment into the Sai Gon River in the dry season, Sawaco has made plans to exploit water from
Dau Tieng Reservoir (in Dau Tieng District in Binh Duong Province and Hon Quan District in Binh Phuoc Province).
The company also plans to relocate the Tan Hiep water treatment Plant in Hoc Mon District to the upper section of the Sai Gon River and build additional reservoirs to store water.
To ensure adequate water supply, city authorities should invest more in building reservoirs and innovating technologies, Quang said. VNS