The HCM City People's Committee has ordered the termination of the contract with the Investment and Development for Underground Space Corporation to build an underground parking lot at Le Van Tam Park in District 1.
HCM City speeds up work on four underground parking lots
HCM City's underground parking projects progress at a snail's pace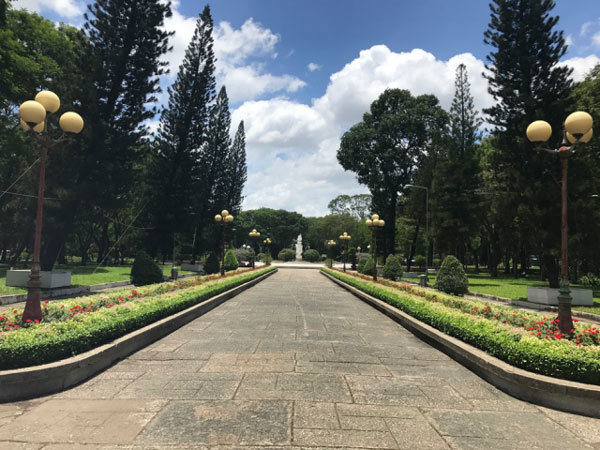 Le Van Tam Park on Hai Ba Trung Street in HCM City's District 1. VNS File Photo
In a document it sent to the Department of Transport, it said the deal is being terminated because of the developer's breach of contract and lack of capacity to carry out the work.
IUS, the contractor, has failed to complete the technical design, remove trees or get a construction licence, the document said.
The People's Committee has also instructed the Departments of Transport and Mineral Resources and Environment to withdraw the land use and investment licences issued to the company.
Dong A Joint Stock Commercial Bank and IUS have been ordered to resolve the loans the former provided for the project.
To cost VND1.748 trillion (US$75 million), the Le Van Tam Park lot will accommodate 1,300 cars and 2,000 motorbikes.
While its construction first began in 2008, the then developer was unable to indicate where the required funds would come from.
In 2009 the People's Committee signed a build-operate-transfer contract with IUS and granted a licence.
In March 2017 the Department of Transport and other relevant agencies completed the paperwork, and IUS agreed to start the work by the end of that year.
But it did little to get the work off the ground.
HCM City plans to have four underground parking lots built by private investors, the other three being at Tao Dan Park, Trong Dong Stage and the Hoa Lu Stadium, also in District 1.
The lot under stadium will cost an estimated VND3 trillion and have space for 2,550 cars and 2,870 motorbikes.
To cost VND740 billion, the 10-level Trong Dong lot will accommodate 890 cars and 400 motorbikes.
The Tao Dan Park facility provides parking space for 1,200 cars and nearly 900 motorbikes, and cost VND896 billion.
Illegal parking on pavements is rife in the city as a result of the shortage of public parking space.
VNS