HCM City should learn lessons from other major cities in developed countries in Asia to reach its aim of becoming a smart city by 2025, speakers said at an international conference held yesterday in the city.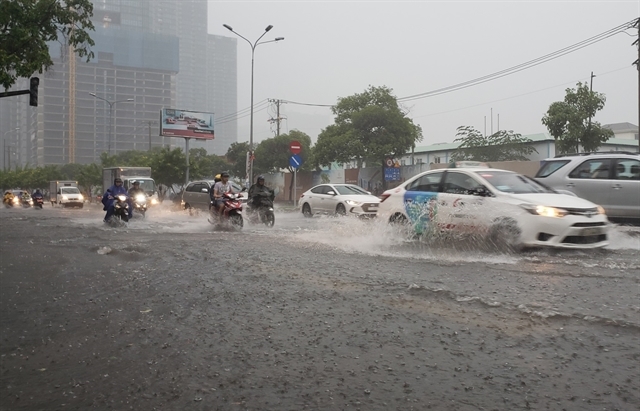 People struggled with floodwaters on Nguyễn Hữu Cảnh Street in Bình Thạnh District of HCM City. Experts at yesterday conference on smart city said that key drivers of the project in HCM City aimed to resolve problems such as unsustainable economic growth, flooding, traffic congestion, pollution, among others.
Around 150 delegates, including those from Australia, Singapore, Malaysia, Thailand, Cambodia and Taiwan, discussed ways to help build a smart city in HCM City, the country's largest city and an important economic, political, educational and cultural centres.
Ngô Thị Phương Lan, dean at the University of Social Sciences and Humanities, said: "Under the smart city project, HCM City gives priority to creating a common-use shared database, a stimulation research and forecasting centre for socio-economic policies, a smart administration centre, and an information security centre."
City authorities are also piloting an open-data portal at http://data.hochiminhcity.gov.vn.
Michael Ling Tiing Soon, an architect from Malaysia, said key drivers of the smart city project in HCM City aimed to resolve problems such as unsustainable economic growth, flooding, traffic congestion, pollution and others.
However, the speed and scale of smart city development pose significant challenges, while unplanned smart-city urban master plans may negatively affect the economic and social well-being of the city, Soon added.
A sustainable urban master plan and a long-term strategy will play a key role in integrating "new urbanism principles" in smart-city planning.
Dr Joel Zhengyi Shon, from Tainan University of Technology in Taiwan, noted that most developed countries were capable of developing IoT and AI technologies, but for developing countries or less developed nations, the new technologies can be unaffordable.
Even if the cost is not a major issue, the countries might lack the know-how and experience in building a smart city, he added.
Experts at the conference noted that even though a smart city relies heavily on technology, it might ignore or sideline the human element on which development should be centred.
Smart cities are driven by data collection from different types of sensors, including coordination and integration of dates and deliveries to consumers, and monitoring of public services.
The success of smart cities will come from the will of the Government to bring resources of different departments and interests to bear on development.
Good governance is the most important factor in achieving efficiency, experts said.
HCM City, which aims to be a smart city by implementing IoT, AI and Big Data, faces a number of challenges such as flooding, traffic jams, inadequate infrastructure and limited resources for development.
ASEAN Smart Cities Network
The ASEAN Smart Cities Network (ASCN) was officially adopted at the 32nd ASEAN Summit in Singapore in April last year.
ASCN, which includes HCM City, Hà Nội and Đà Nẵng, is expected to enable Southeast Asia to sustainably develop its cities and further optimise the region's booming digital economies.
The development of ASCN and smart cities across Southeast Asia comes in response to increased urbanisation in the region which is placing significant strain on cities' infrastructure, climate control measures, and basic sanitation of its people.
About 49 per cent of the region's population live in urban areas. Rapid urbanisation means that between 2015 and 2030, about 100 million people in ASEAN are expected to migrate from the countryside to cities.
The ASCN is a step forward in the modernisation of Southeast Asian cities, enabling them to increase their efficiency and promoting greater standardisation of technologies across the region.
The ASCN aims to facilitate cooperation in the region on smart cities for sustainable development.
A total of 26 cities from member states will be joining the network.
ASCN is a platform that includes three cities (including the capital) of each member state that will be developed into smart cities.
The network focuses on developing digital infrastructure and increasing connectivity in the region in areas such as electronic payments. Other areas of focus are city operations, and energy and water conservation.
Member states will share best practices and develop action plans for the next seven years, which can lead to a framework for development.
The network also works with the private sector on feasible and commercially viable projects, and procures funding from external partners.
Member states will be required to enter into partnerships with external partners including the World Bank, Asian Development Bank, Asian Infrastructure Investment Bank and Global Infrastructure Hub.
The conference included 35 presentations from scientists, including seven articles from Australia, Malaysia, Singapore, Thailand, Cambodia and Taiwan.
The one-day conference was organised by the University of Social Sciences and Humanities, HCM City Cadre Academy, Việt Nam - Southeast Asia Friendship Association, and HCM City Union of Friendship Organisations. — VNS