Employers' recruitment demand in HCM City in the last months of the year is expected to see a 34 per cent decline compared to the same period last year due to the impact of the COVID-19 pandemic.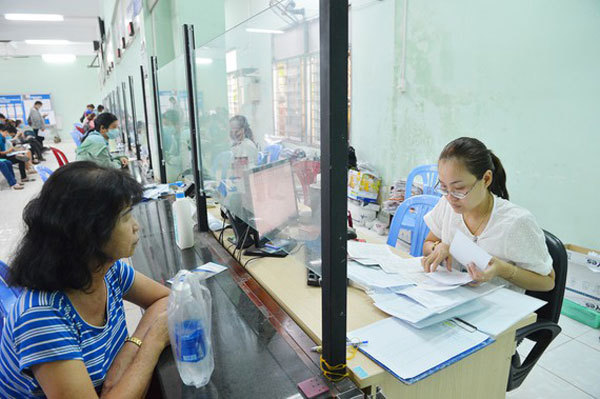 A person visits the HCM City Employment Service Centre to receive unemployment benefits. — Photo www.sggp.org.vn
The city's labour market has seen positive changes, but recruitment demand has dropped 21 per cent year-on-year.
Hoa Han Bang, 37, from Binh Tan District, told Sài Gòn Giải Phóng (Liberated Sài Gòn) newspaper that he has 10 years of experience in logistics but has been unemployed because of the pandemic and must now live on unemployment allowance. 
He is one of nearly 158,500 workers unemployed in the city who registered for unemployment benefits in the first nine months of the year.
Le Thi Kieu Phuong, director of the city's Employment Service Centre, said the proportion of people registered for unemployment benefits in the first nine months of the year has increased by 24 per cent year-on-year.
The centre's main office in Binh Thanh District and six branch offices in districts 4, 6, 9, 12, Tan Binh and Cu Chi receive thousands of registrations for unemployment allowance every day.
The office has received the largest number of unemployment insurance applications among 63 cities and provinces across the country, accounting for a fifth of the country's total applications.
According to a survey of 16,800 enterprises conducted by the city's Human Resources Forecast and Labour Market Information (Falmi) Centre, nearly 70 per cent of surveyed enterprises are facing difficulties in production and trade activities due to the impact of the pandemic.
Do Thanh Van, deputy director of Falmi, said many enterprises have had to let their employees take turns working or take unpaid leave because of financial problems. In some cases, labour contracts have been terminated.
In the first nine months of the year, workforce demand in four major industries including mechanics, electronics and IT, food and food processing, and chemicals-rubber-plastics, declined by 9.5 per cent compared to the same period last year.
Navigos Group, an HR service provider in Vietnam, pointed out that recruitment demand for medium- and high-level personnel has dropped 23.5 per cent compared to the same period last year, especially in the textile and garment industry.
Textile and garment workers have been facing greater unemployment risks due to low consumption of textile goods. Many textile and garment enterprises have switched to making face masks and protective medical clothing. 
Support for workers
About 40 per cent of local enterprises said that paying salaries has been their biggest financial burden after the country was hit by the pandemic, Anphabe Chief Opportunity Connector, Thanh Nguyen, said.
Some enterprises have been forced to lay off staff to reduce costs in the last months of the year.
Le Minh Tan, director of the city's Department of Labour, Invalids and Social Affairs, said the department had organised many activities to support laid-off workers, such as creating conditions for them to turn to apprenticeships or career change.
Some enterprises had started recruiting workers again for production orders by the end of the year, he said.
Many social dialogues between employees, enterprises and state agencies had been held to discuss measures to minimise the impact of the pandemic on production and business activities.
The city authority was also supporting labourers by giving top priority to businesses that maintain production and keep their workers.
The city Employment Service Centre had provided online public services to shorten the processing time and help simplify the process of claiming unemployment support for workers.
Do Thanh Van of Falmi said the labour market had shown positive signs of recovery, but labour demand had still decreased.
There will be nearly 62,000-65,000 job vacancies in the last quarter of the year, a year-on-year decrease of 21 per cent, according to the centre.
Labour demand is high for trading, services, transportation-warehousing-port, food and food processing, IT- posts-telecommunications, and electricity-electronics-refrigeration.
Demand for trained workers accounts for 85 per cent. The demand for people with university, college, intermediate and elementary qualifications is 20 per cent, 20 per cent, 31 per cent and 14 per cent, respectively.  VNS

Enterprises in a number of sectors in HCM City need to recruit a large number of employees but are finding it difficult to fill positions despite numerous job losses amid the COVID-19 pandemic.

Vocational training programmes in HCM City have narrowed the gap between employers' expectations and employees' qualifications thanks to cooperation between vocational schools and businesses.