HCM City should soon start using a robotic assistant to automatically make phone calls to people to ask about COVID-19 symptoms and report to health officials for taking samples to test in time, Deputy Prime Minister Vu Duc Dam has said.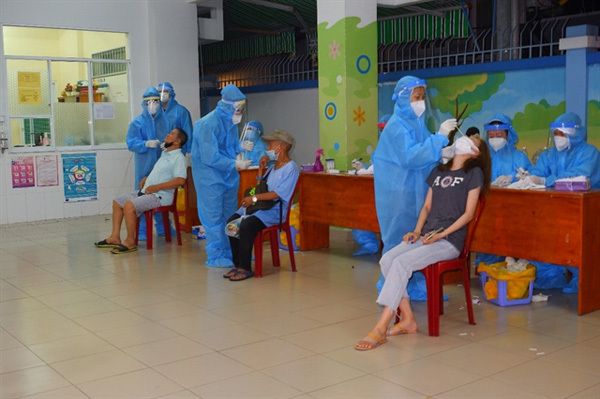 The health Centre in Tan Binh District's Ward 3 on June 2 took samples from 2,440 local residents after three people in a family tested positive for COVID-19. Source https://hcdc.vn/
Speaking at an online meeting between the National Steering Committee for COVID-19 Prevention and Control, of which he is head, preventive agencies and HCM City on June 2, he said the city should start in high-risk areas first, including industrial parks and export processing zones.
He ordered the Ministries of Science and Technology and Information and Communications to collaborate with the city to collect data about its residents and classify groups to make the robotic phone calls as soon as possible.  
He instructed the city to make greater use of IT to monitor the health of workers at industrial parks to prevent outbreaks.
City People's Committee vice chairman Duong Anh Duc promised at the meeting that the city would try to use the robotic assistant soon.
According to the city Centre for Diseases Control and Prevention (HCDC), three COVID clusters have been found since May 18, two in District 3 and the other in Go Vap District.
As of June 2 the Go Vap cluster has been found responsible for 250 cases in 20 districts besides the provinces of Long An, Binh Duong, Dong Thap, Tay Ninh, Tra Vinh, and Bac Lieu.  
On June 2 alone 34 people were admitted in city hospitals for treatment, increasing the tally in the latest outbreak to 321.  
According to the Centre for Diseases Control and Prevention, the city could have more cases without knowing the source since the virus is present in the community. So the public should scrupulously follow preventive measures recommended by the Ministry of Health and local authorities.    
Testing workers
On the night of June 2 nearly 30,000 workers in the Tan Thuan Export Processing Zone in the city's District 7 were tested for COVID.  
On the same day task forces from the Cu Chi Regional General Hospital in Cu Chi District took samples from another 5,000 workers at 14 companies in the Cu Chi Northwestern Industrial Park.
The city has 17 industrial parks and export processing zones with nearly 280,000 workers, including more than 2,600 foreigners.
It plans to test all of them.    
Priority for working from home
The People's Committee requires all officials and workers who are living in Go Vap District and Thanh Loc Ward in District 12 and working at companies providing essential services and cannot work from home to show negative Covid-19 PCR test certificates if they want to leave home at those two localities. 
The two localities have been implementing Government Directive No.16, which requires people to stay at home, except for certain reasons.  
It also requires people to keep a distance of at least two metres in public and bans gatherings of more than two people.
Production units must ensure a safe distance between workers and disinfect the workplace, and workers should wear masks.
Government offices or companies providing essential services outside Go Vap District and Thanh Loc Ward should arrange temporary accommodation for their employees.
State offices in Go Vap and Thanh Loc should have a third of their officials working at the office, while elsewhere they should have half.
VNS

Non-touch temperature screening kiosks and cameras as well as software modules using Artificial Intelligence (AI) and Internet of Things (IoT) should be set up in high-risk Covid-19 locations, including quarantine areas, experts have said.