HCM City has stepped up inspection to prevent the risk of an African swine fever outbreak after the disease spread to neighbouring provinces, according to its Department of Agriculture and Rural Development.
First Mekong Delta province reports African swine fever
HCM City plans to reserve pork, poultry as ASF virus spreads fast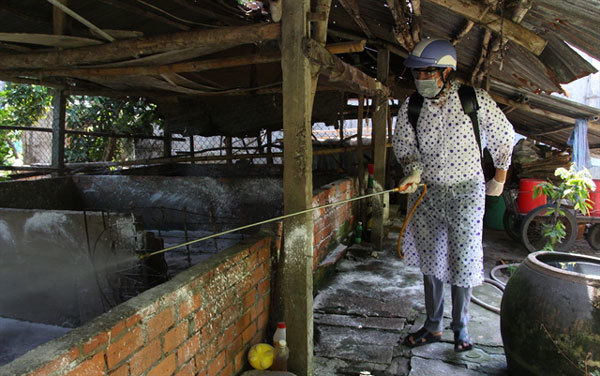 An animal health division official in Vi Thuy District, Hau Giang Province, disinfects households that have suffered an outbreak of African swine fever. — VNA/VNS Photo Hong Thai
This is one of the emergency preventive measures the city has added to its plans to combat the disease, Nguyen Phuoc Trung, the department's head, said at a meeting with officials from the Ministry of Agriculture and Rural Development on Tuesday.
Three more quarantine checkpoints have been set up along the borders with Binh Duong and Dong Nai provinces to carefully monitor pigs being transported to the city, he said.
Vehicles carrying pigs have been disinfected at these places as did all slaughterhouses in the city. Pigs in local farms are being tested for the disease.
Five districts where pigs are bred need close monitoring and disinfection.
Trung said no cases of African swine fever have been reported yet in the city.
It has nearly 4,000 small pig breeding households with around 274,000 animals, and they are considered highly vulnerable to the disease.
There are 11 abattoirs where 6,500-7,000 animals are slaughtered every night. Dong Nai Province accounts for 46 per cent of these pigs, Binh Duong for 19 per cent, and Binh Thuan and Ba Ria-Vung Tau for the rest.
The neighbouring Dong Nai and Binh Phuoc and the Mekong Delta province of Hau Giang have reported outbreaks of the disease, Trung said, adding that the risk of the disease spreading to the city is high.
Hau Giang was the first province in the delta to report the disease after it identified and tackled outbreaks in one household each in the districts of Chau Thanh A and Vi Thuy.
In Dong Nai, five communes in its districts of Trang Bom, Nhon Trach and Vinh Cuu reported outbreaks and nearly 870 pigs were culled.
According to Vo Van Chanh, vice chairman of the Dong Nai Province People's Committee, the outbreak is expected to worsen and so provincial authorities and other relevant agencies are strengthening preventive measures.
Deputy Minister of Agriculture and Rural Development Phung Duc Tien admitted since there is no vaccine to prevent pigs from getting the disease, its containment would take time.

Ensuring pig supply
Because of the disease outbreak in the three southern provinces, the city People's Committee has instructed the Department of Industry and Trade to work with enterprises to meet pork demand.
Nguyen Huynh Trang, the department's deputy head, said Vissan, Sargifood, CP, and San Ha could supply a total of 106.5 tonnes of pork every day.
Nguyen Xuan Duong, head of the Department of LiveStock Production, suggested frozen storage of meat and meat products as a solution.
But Nguyen Ngoc An, general director of Vissan Joint Stock Company, said consumers do not prefer frozen meat.
Besides, the cost of freezing, at VND3-3.4 million (US$128-145) per tonne, is high, which would send prices rising sharply, he said.
VNS