HCM City authorities are trying to find ways to prevent deadly road accidents caused by trucks.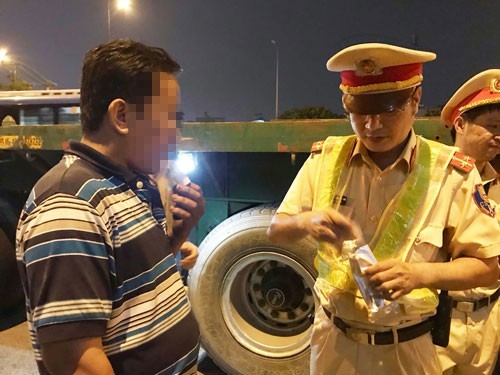 HCM City police test driver for drugs and alcohol
Three trucks crashed into residential houses in the past two weeks in HCM City. On April 3, a truck driver fell asleep and crashed the gates of two adjacent houses on Nguyen Duy Trinh Street in the early morning. Five days later, two people were killed after truck and motorbike collision on An Suong intersection.
"The truck driver was still sleeping even after crashing into the houses," said Nhat Hoang, a resident in District 9.
Traffic police already strengthened alcohol and illegal drug checks among drivers after a truck ran into dozens of motorbikes waiting at a red light in Long An Province on January 2. The driver in the case tested positive for alcohol and drugs. The drivers said they knew about the dangers but they had no other choice due to the high-pressure deadlines they were operating under and had to find ways to stay awake.
According to the police in HCM City, by the end of March, they had dealt with over 6,200 drunk driving cases and 31 cases that use drugs. The HCM City Department of Transport reported that they have received health check results of over 41,000 drivers, however, many firms are still avoiding carrying out health checks to drivers.
Since health checks are carried out by the firms, many people have questioned the accuracy of the results. Especially as cost-cutting by transport firms is one of the reasons why drivers have to use alcohol and drugs in the first place.
Nguyen Le Ninh from the HCM City Fatherland Front Committee said they should have measures to deal with transport firms that force drivers to work overtime. The city Traffic Safety Committee is also planning to better monitor the firms.
Bui Van Quan, chairman of HCM City Cargo Transport Association said they had held many conferences to raise awareness among transport firms and how to train drivers but few were interested. Vietnam still lacks proper laws regarding such issues.
"We have over 200 members with 6,000 vehicles, most of them are heavy trucks. Each firm has different rules about training and health checks," he said.
Nguoi Lao Dong/Dtinews