The quality of tap water in HCM City is being closely monitored by production and distribution units as well as independent agencies such as the main Preventive Medicine Centre and district-level preventive health centres.
HCM City hopes to wean people off groundwater
100,000 City households unwilling to use tap water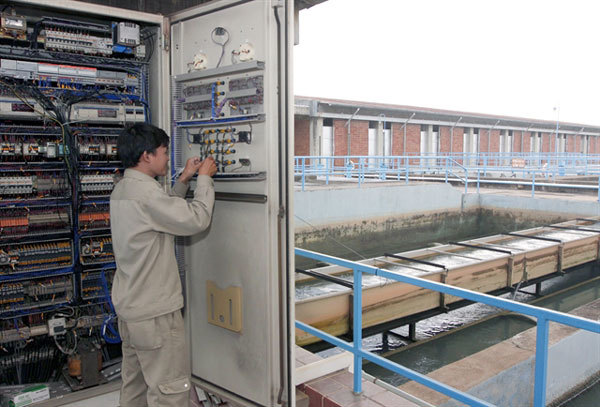 A worker checks equipment at Thu Duc Water Supply Factory in HCM City. VNA/VNS Photo Ngoc Ha
Test results of the city's water quality monitoring last year released by the city's Preventive Medicine Centre showed that tap water samples collected from many areas in the city failed to meet standards set by the Ministry of Health.
The centre tested more than 3,155 water samples across the city last year.
Of the figure, about 1,827 samples met the physical and chemical standards, and more than 3,017 samples met microbiological standards. Another 1,792 samples reached chemical, physical and microbiological standards.
Meanwhile, about 2.78 per cent of samples that the Preventive Medicine Centre took from the state-owned Sai Gon Water Supply Corporation (Sawaco)'s facilities did not meet the physical and chemical standards, with most samples failing to meet the chloride residual standard of between 0.3-0.5mg per litre.
The samples were also collected from wells at households and tanks in districts 12, Binh Chanh, Nha Be, Can Gio, Cu Chi and Hoc Mon.
Bui Thanh Giang, deputy general director of Sawaco, told Sài Gòn Giải Phóng (Liberated Sài Gòn) newspaper that his company only controled water quality at water supply stations, plants and in the pipeline system. It also provided instructions on storage methods and usage to ensure hygiene standards.
"Storage tanks are managed by residents and authorities in localities," he said.
The company's Water Quality Management Department randomly takes about 100 samples of tap water a week to assess the quality of water in its water plants and water supply network.
All water samples are tested at the department's laboratory that meets the international standard ISO 17025 for quality systems in testing and calibration.
"Basically, most test results between the preventive health centres and Sawaco are not that different. If a sample fails the standards, the company will test again and quickly deal with the problems," Giang said.
In many cases, although the water in plants and stations meets 100 per cent of the standards, storing tap water in containers and tanks at households or apartment buildings may not ensure water quality if the storage is prolonged.
"Preventive medicine centres in city districts should not take tap water samples from water tanks where water sources could reflect differences in the original mix. This is to ensure test objectivity and accuracy," Giang said.
The company said it closely coordinated with relevant agencies to promptly detect, prevent and handle arising problems.
For example, following recent complaints about tap water quality from local residents in Hoc Mon District's Ba Diem Commune, Sawaco immediately worked with the city's Preventive Medicine Centre and the district's Preventive Health Centre to test water samples.
One sample failed to meet the iron standard of 0.5mg per litre, and another sample had a lower chloride residual compared to the standard of between 0.3-0.5mg per litre.
Households living at the end of the water pipeline system were rarely using water, as the water flow did not run smoothly.
"When there is a hydraulic disturbance at the end of the pipeline, the quality of water becomes unstable," Giang said.
Sawaco overcame the problem by regularly flushing the water pipeline system to ensure water quality for household use, he said.
The company has committed to strictly monitor water-supply quality and implement projects to ensure that 100 per cent of the city's households are provided clean, safe water.
Tran Kim Thach, head of Sawaco's Water Quality Management Department, said the company was continuing to monitor the quality of raw water in rivers to control pollution and salinity in the dry season, and was working with water management units to prevent abnormal saltwater intrusion or waste water discharge.
The department plans to regularly conduct online monitoring of the salinity rate of surface water on the Sai Gon and Dong Nai rivers during the dry season.
"The company will also conducts tests in the laboratory to compare test results from online monitoring, especially during high tides," he said.
When signs of increasing salinity appear, Sawaco will work with management units at Dau Tieng Reservoir in Tay Ninh Province and Tri An Reservoir in Dong Nai Province to discharge water to reduce the salinity.
VNS