HCM City plans to build 412 inland waterway berths in 21 districts in the next decade to exploit the potential of its 1000-km long network of canals and rivers for transport and tourism development.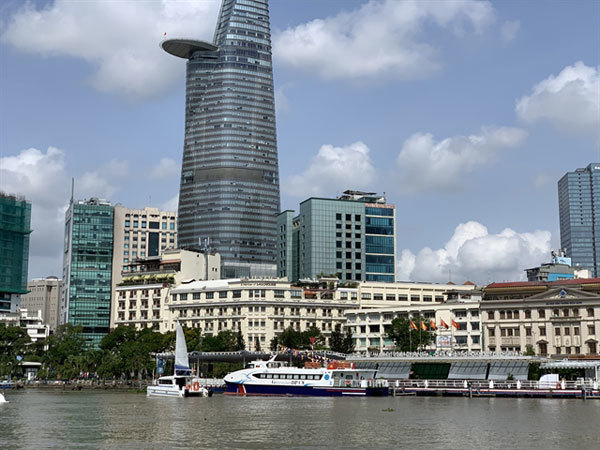 Bach Dang Wharf in HCM City's District 1 is used for waterway tourism services. — VNS Photo Nguyen Diep
The city's Department of Transport is working to complete its transport infrastructure development project in the 2020-30 period.
Many solutions for developing inland waterway transport are expected to be added to the project to reduce heavy traffic on roads and develop waterway tourism.
The project will create favourable conditions for businesses to invest in building berths for waterway transport for both passengers and goods.
The department has proposed that the city build 174 cargo berths, 13 specialised berths, 175 passenger berths, 28 river crossings and 22 general berths.
The city's Department of Planning and Investment and the people's committees of districts will be responsible for managing inland waterway berth locations.
The city has great potential for inland waterway transport with 110 rivers and canals, including inland waterways and sea routes.
However, the exploitation of the city's river and canal system faces limitations.
The inland waterway ports and inland container depots (ICD) system across the city have not been developed according to planning.
There are 302 inland waterway berths for passengers and cargo in the city. These berths handle millions of passengers and tonnes of goods between the city and southwestern provinces each year.
However, the city has focused on exploiting the Truong Tho Transshipment Port in Thu Duc District, causing traffic jams in the city's eastern gateway. The transhipment port consistently exceeds its designed capacity.
Meanwhile, many new IDC projects such as Long Binh IDC project in District 9 have not been implemented due to issues related to capital disbursement and site clearance.
The current inland waterway port system has not been equipped with modern cargo-handling machines, which has led to a lack of approval for the output of goods through the ports.
In addition, state management faces difficulties attracting businesses, organisations and individuals to invest in inland waterway ports. 
Better linkages
The planning of construction and exploitation of the existing berths is not reasonable, experts have said.
Phan Xuan Anh, chairman of the Du Ngoan Viet Ltd Company, said the company was developing waterway tourism activities on the Nhieu Loc-Thi Nghe Canal route.
The city had invested in building eight berths on the route, but these berths were located in unreasonable sites that lead to inconvenient access to tourism destinations, he said.
According to architect Ngo Viet Nam Son, inland waterway transport has many advantages compared to other transport means, such as carrying a large volume of freight at the lowest cost among transportation forms.
However, lack of connectivity between roads, berths and warehouses has led to ineffective exploitation of the current inland waterway system and a high transfer cost.
"The new berths must be placed in positions suited to city planning and in ways that would reduce infrastructure bottlenecks for waterway transport," Son said.
Building new berths must be linked closely with the planning of the road transport system, and should be based on goods and passenger transport or tourism development. If not, this would lead to ineffective investment, he added.
The city should call for private investment in these projects to reduce the burden on the State budget. To attract investors, linkages between cuisine and entertainment service sites and the berths would be needed, he said. 
Long-term plan
The city's Department of Transport has built an inland waterway transport development plan for 2021-30 period with a vision to 2050, giving priority to dredging canals, upgrading bridges, and linking the city centre with seaports.
The plan's total investment capital is estimated at more than VND21 trillion (US$911.8 million), including VND4.1 trillion ($178 million) for construction and VND570 billion ($24.7 million) for annual maintenance costs.
It includes four inland waterway routes from the inner city to Hiep Phuoc Port in Nha Be District, three routes connecting the city's eastern area with Cat Lai Port in District 2, and two belt routes.
Five inland waterway routes will be opened to enhance connections between the city and southeastern provinces, including the Sai Gon - Moc Hoa route on Vam Co Tay River, Sai Gon - Hieu Liem Route on Dong Nai River, and the Sai Gon - Thi Vai Route, Sai Gon - Ben Suc and Sai Gon - Ben Keo routes on Vam Co Dong River.
Between the city and southwestern provinces, there will be five routes from the city's coastal areas to Ca Mau and Kien Giang provinces.  VNS

HCM City is making efforts to improve its logistics services to create a driving force for its economy as well as that of the southern key economic region.  

The HCMC Department of Transport has estimated that the city will need more than VND21 trillion for its water transport in the next 30 years,