The HCMC government has urged the Ministry of Natural Resources and Environment to cease issuing new licenses for the exploitation and use of groundwater throughout the city, due to increased water pollution and land subsidence.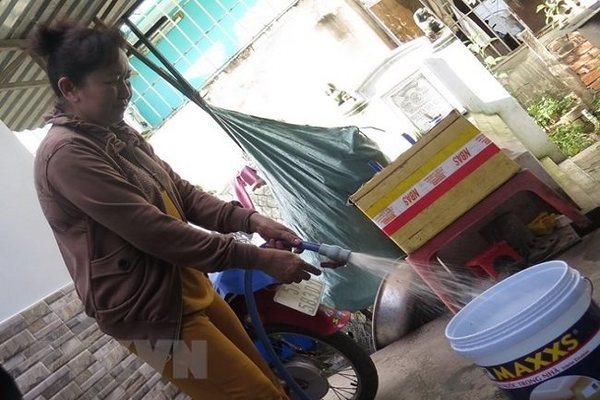 A woman uses tap water in Binh Tan District of HCMC. The HCMC government is taking steps to crack down on the overexploitation of groundwater across the city – PHOTO: VNA
The municipal government ordered its department of natural resources and environment to draw up a plan to restrict groundwater overexploitation and ensure sufficient supplies of clean water, reported Thanh Nien newspaper.
In March last year, the city's vice chairman, Tran Vinh Tuyen, approved a scheme to reduce groundwater use and to shut down groundwater wells in the city.
It was expected that the daily volume of groundwater extracted would drop to 487,000 cubic meters by the end of last year, then to 310,000 cubic meters by end-2019 and to a mere 100,000 cubic meters by 2025.
In an effort to achieve these targets, the city government has provided residents all over the city with access to clean water. However, the groundwater reduction plan over the past year has barely seen any positive results.
Data from Saigon Water Corporation (Sawaco) indicated that there are some 1.46 million water meters citywide, around 124,500 of which are left unused by the households associated with them. This means these households are not using tap water.
Meanwhile, recent statistics also showed that more than 716,500 cubic meters of groundwater is pumped on a daily basis there.
A survey by the local environment regulator found that the demand for underground water is not only popular in the suburban parts of the city but also in the inner-city districts where a large number of households, including those provided with tap water, still use groundwater in their daily activities.
For example, the district of Binh Thanh alone recorded 33 organizations and over 270 households using the groundwater, at a total of more than 360 cubic meters per day.
The Ministry of Natural Resources and Environment found that the city recorded subsidence levels ranging from 1.1 centimeters to 81.4 centimeters at 347 sites between 2005 and 2017. Thus, the city's average subsidence rates were between 0.09 and 6.78 centimeters per year.
An Lac Ward of Binh Tan District, for instance, has subsided by 81.4 centimeters over the past 12 years, the highest rate in the southern metropolis.
According to experts, the use of poor-quality groundwater taken from wells poses a grave risk to human health, causing skin irritation and gastrointestinal infections.
The accumulation of toxic substances in the groundwater over a long period can lead to cancer and fatalities when that water is consumed without proper processing.
As many as 149 water samples collected from wells in HCMC revealed that the concentrations of iron, E. coli bacteria and ammonia as well as pH levels had failed to meet the Ministry of Health standards, according to an investigation carried out by the municipal Preventive Health Center in May 2018.
The center added that groundwater can be harmful to users' health because dangerous chemicals or wastewater may have leached into it. SGT
 

HCMC authorities have asked city residents to fill in water wells because underground water overexploitation is believed to be the cause of flooding and subsidence.