District-level authorities and departments in HCMC will connect surveillance cameras in the city to a centralized monitoring system, in addition to consulting with contractors on the creation of a smart urban monitoring center.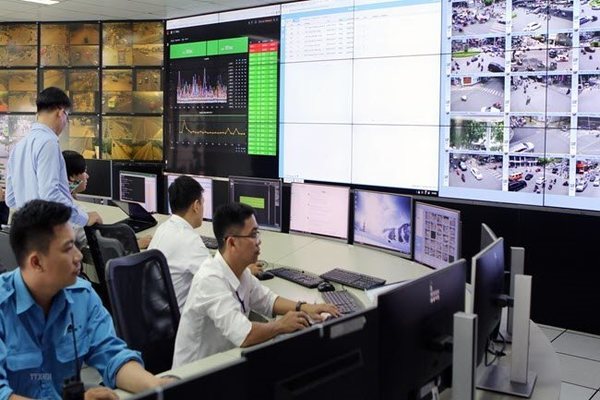 Monitoring staff watch traffic activities on multiple screens, where data are collected from surveillance cameras installed along the streets in HCMC
At a meeting presenting technological solutions and instructions to invest in the components of a district-level smart urban model, held on October 21 in the city, a representative of Advanced International JSC underscored the importance of connecting surveillance cameras across the city's districts to the municipal Department of Transport's traffic control and monitoring center.
Addressing the event, Tran Vinh Tuyen, vice chairman of the municipal government, said that a smart urban monitoring system can only operate effectively when it is executed in a synchronous manner throughout the city's 24 districts.
He also urged the districts to connect surveillance cameras to the centralized monitoring system.
Besides this, district-level authorities were asked to execute the model of a smart urban monitoring center, on par with the city's architectural framework.
The municipal Department of Information and Communications is working on an architectural framework for cameras so that the districts and other departments can follow suit and make appropriate investments.
Earlier, at a review meeting in June this year, the Information and Communications Department said that the city has integrated data from the surveillance cameras of the Transport Department and district-level governments on a trial basis, as part of a plan to develop HCMC into a smart city in the 2017-2020 period, with a vision toward 2025.
In particular, more than 1,000 cameras have been connected to the centralized monitoring system, including those that have identification, analysis and search functions.
 
Chi Thinh

Ho Chi Minh City planned to budget more than VND1.6 billion (US$ 68.845) for installing camera surveillance in childcares in private households around industrial and export processing zones.  

While parents insist on installing cameras in classes to prevent school abuse, teachers argue that this will violate children's rights and teachers' privacy.